A Speaker System With Power Issue Repaired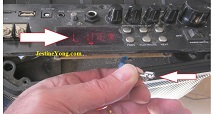 A guy next door who owns an olive wood carving workshop brought this speaker system for repair and the issue was power related. He explains that his speaker system goes into shut down a few hours after it has been turned on. He likes to listen to music while working but for the past week the speaker system was dead and needed some attention.

I plugged the power adapter in and right away I could see that it was charging but when push the power button on, it does not power up.
I am thinking about a power switch issue here and there is a quick way to test it out.

I took the six screws off and right away I could see a lot of sawdust in there as expected because it has been sitting in the wood factory for the past five or more years.

I disconnected the two cables that goes to the power switch and connected
them together and right away the speaker system came on indicating a bad power switch and that is a very easy issue to get fixed.

I have plenty of power switches in my shop and right away I swapped the bad switch with a good used one and right away the speaker system came on once that switch was pressed on.
Of course I went through a lot of re soldering all the cold joints on that board lubricating all the knobs, buttons making sure that all are in good working condition. With an air blower I blew all the sawdust out of the system then put everything back together and called the customer. Everything was working according to specs and to that I could say
Mission accomplished.

This article was prepared for you by Waleed Rishmawi, one of our 'Master Authors' and currently working in the Bethlehem area of Palestine repairing electrical and electronic equipment.
P.S- Do you know of any your friends who would benefit from this content that you are reading now? If so, forward this website to your friends or you can invite your friends to subscribe to my newsletter for free in this Link.
Note: You can check his previous article on A Laptop Powering On But With No Backlight Repaired
Likes
(

56

)
Dislikes
(

0

)