A Toy Car Control Board With Water Damage Issue Cleaned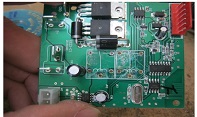 A guy who owns a store that sells electrical parts for electricians brought his board for repair. It is a control board for a toy car for one of his customers. He said it was not accepting any order from the remote control.

If you look closely to the board you will find out the fault; yes it is water damage issue and I am not sure if cleaning that board would bring the board back to life.

When I asked the guy, who brought the board if he could bring the rest of the car to my shop for testing, he declined. It has to do with the "Image of the store" he said. In other words if the customer drops by suddenly to ask about the progress of the repair, he will not find the car there and that would hurt his reputation.
We made a deal if in anyway the board was cleaned and repaired and did not work I still get fees for giving it a try.

So I started taking parts off board one by one and clean under it till the whole board was inspected and added fresh solder to every joint.
After it was all cleaned up, I called the guy to come and pick it up. Later on he called and said that it did not work. I asked him if there is another board on that car that has water damaged issue as well; he said he would not know.
I had to go to his shop to inspect further issues on that car and as expected there were another two boards on that car and both of them had the issue of water damage.
At that moment I declined to go further in the repair. I got my fees for cleaning that board and I headed back to my shop.
Mission Failed.

This article was prepared for you by Waleed Rishmawi, one of our 'Master Authors' and currently working in the Bethlehem area of Palestine repairing electrical and electronic equipment.
P.S- Do you know of any your friends who would benefit from this content that you are reading now? If so, forward this website to your friends or you can invite your friends to subscribe to my newsletter for free in this Link.
Note: You can check his previous repair articles in the link below:
https://jestineyong.com/hair-remover-laser-machine-maintained-for-better-service/
Likes
(

43

)
Dislikes
(

0

)