A Treadmill With (E1) Error Repaired and Maintained. Model: York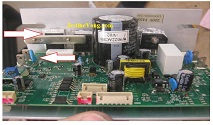 As I was picking up my nephew from the Kindergarten, a teacher approached me with the question if I repair treadmills and of course I asked him to bring the board to the shop for full check up. Because of Covid 19 I was not able to go to his house to dismantle the board so I instructed him on how to do it.

Usually with an E1 error display is a sign either a bad board or a bad motor but from experience especially with York treadmills the fault often is the board.
By looking at the board, right away I could see a faulty capacitor which means a faulty IGBT on that same line.

That is a 103/2KV capacitor which is connected mainly to the motor and on the other side connected to the IGBT.

The IGBT part number is GH20N60B3 and as expected, it was shorted to all three pins.


You can click on this link and the above photo to access the datasheet
The only replacement I could find for such IGBT in my shop is the FGH40N60SFD which has the same rating of 600 volts but higher in amp which is 40 instead of 20.
I have done this modification before and it worked like a charm.

As you can see in the photo, I have replaced both the IGBT and the capacitor and of course I cannot test it out since I do not have the rest of the treadmill machine in the shop. I called the guy and after instructing him on how to put the board back for testing, he called me four hours later to inform me that the machine is up and running.
Mission Accomplished.

This article was prepared for you by Waleed Rishmawi, one of our 'Master Authors' and currently working in the Bethlehem area of Palestine repairing electrical and electronic equipment.
P.S- Do you know of any your friends who would benefit from this content that you are reading now? If so, forward this website to your friends or you can invite your friends to subscribe to my newsletter for free in this Link.
Note: You can check his previous article on Welding Machine Repair
Likes
(

75

)
Dislikes
(

0

)