A Turkish Welding Machine With Very Weak Welding Repaired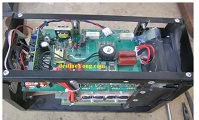 A guy that owns an electrical supply shop brought this machine for repair. The welding on this machine was very weak and needed some attention.

Another Turkish welding machine that failed to do a strong welled and from experience one thing that causes this kind of faults.

According to the customer this machine is still under warranty but he does want to wait for a long time to get back so he brought it to me.
As you can see in the photo, that is a new one and hardly used welding machine.

When my brother next door tested it out, there was a little weak welding going on but not enough to bound two metal pieces together.
When I checked the voltage coming out, it was suppose to be 40 DC volt or higher but this one was below that rate.

Usually, in this kind of fault, it has to do with a transistor with the part number SS8050 either locate where it shows in the photo or the same part number that is located next the amp knob on the other side of the machine. In this case this one here was the fault.


Please click here to visit the SS8050 datasheet
This kind of transistor is a well know one and found a lot in the home appliances like the microwave ovens. So I got a replacement and soldered on board and gave it a try.

This voltage what I was hoping for and most of all I took it next door to my brother and tested and it was working according to its specs.
Mission accomplished.

This article was prepared for you by Waleed Rishmawi, one of our 'Master Authors' and currently working in the Bethlehem area of Palestine repairing electrical and electronic equipment.
P.S- Do you know of any your friends who would benefit from this content that you are reading now? If so, forward this website to your friends or you can invite your friends to subscribe to my newsletter for free in this Link.
Note: You can check his previous article on A Broken Fan Replacement On A Tiny Welding Machine. Model: Hugong
Likes
(

58

)
Dislikes
(

0

)