A Vibrator Machine Shutting Down Repaired and Maintained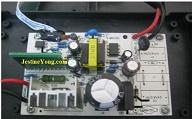 A dietician guy gave me a call and asked if I repair such machines. I told him to bring it to the shop and I will see what I can do to help out. I never worked on such machines before but I was willing to take a look.

It is a machine that you stand on and it starts to vibrate for losing weight. It has many programs you can set it to but in this case the timer was set for ten minutes. Once the vibrator is on it last only two minutes then it goes into shut down.
There are four parts in that machine: the power supply, the main board, the display board that is hiding beneath that metal shielding and the vibrating motor of course.

That is the board that takes power from the power supply and gives it to the display in the bottom.

That is the power board and it looks nice and neat from this side but on the other side, it is completely a different story, take a look.

There were a lot of cold soldering joint all over the board but the once in red marks were the worst.
I re soldered all the joints there but I did not stop there because if you look to the left of the photo you will see a row of cold soldering joints marked in red, well you will understand when you see the other side of this board, take a look

I soldered it off board and re soldered these cold soldering joints on it; that is the main brain of this device and no wonder it was shutting down.

I put everything back together and then gave it a test. I made my son stand on it and ran the system for ten minutes (sorry no photo). Later on I stood on it and gave it a test and it did not shut down. The machine was up and running doing what is suppose to go vibrates and make people lose weight (LOL).
I contacted the guy and he came and picked it up. I told him to test it out and if there any faulty still to bring it back. He called me two days later and informed me that the machine is running fine.
Mission accomplished.

This article was prepared for you by Waleed Rishmawi, one of our 'Master Authors' and currently working in the Bethlehem area of Palestine repairing electrical and electronic equipment.
P.S- Do you know of any your friends who would benefit from this content that you are reading now? If so, forward this website to your friends or you can invite your friends to subscribe to my newsletter for free in this Link.
Note: You can check his previous repair articles in the link below:
https://jestineyong.com/no-heating-in-microwave-oven-repaired/
Likes
(

61

)
Dislikes
(

0

)