A water flow device repair. Model: Matic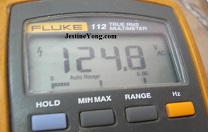 This water flow device was brought to me by a plumper. This device is supposed to be connected to a water pump. When the level of the water inside the tank goes down, this device should trigger the water pump to come on by delivering 220 volts to it and it should start pumping water. For some reason, this was not happening.

The common sense here before opening his device, is to check the motor. I applied 220 AC volts directly to the motor and it started running which gave me the indication that the motor is fine.
I took four screws out and here is what I saw inside the device. Not too complicated and it appears to be fine on the outside. I needed to investigate further.

The two green connections you see on the board are for incoming AC power and the lower one is the outgoing AC power that goes to the water pump. I turned the device on and the green LED light came on indicating all is well so far.

There is 220 AC going to the device and it should be 220 or more coming out so the water pump will work. I checked the voltage coming out of his device, I measure only, well, look at the photo and you will see.

That was not enough voltage to run the pump since that pump needed at least 220 AC volts to run. Other problem is I did not hear the relay click. I tapped on the relay and guess what happened, I could hear a click and here is the new reading.

 The main problem was the actual relay on this device. Once I replaced the relay, and connected the water pump to it, it started to run. Mission accomplished.

This article was prepared for you by Waleed Rishmawi, one of our 'Master Authors' and currently working in the Bethlehem area of Palestine repairing electrical and electronic equipment.
Please give a support by clicking on the social buttons below. Your feedback on the post is welcome. Please leave it in the comments. If you have electronic repair articles to share with us, please contact us HERE.
P.S-  If you enjoyed reading this, click here to subscribe to my blog (free subscription). That way, you'll never miss a post. You can also forward this website link to your friends and colleagues-thanks!
Note: You may check out previous post about fixing active speaker in the below link:
https://jestineyong.com/a-dead-satellite-receiver-restored-back-to-life-visionnet-vn3106/
Likes
(

91

)
Dislikes
(

1

)