A wet dead walkie talkie repaired. Model: Midland LXT500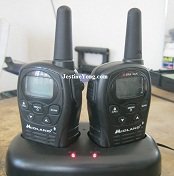 My nephew brought this walkie talkie to my shop and the complaint was wet and dead. He left it laying outside the house and someone by mistake poured water on it. It was left there, wet with battery in for about three days.

From experience, when battery is left in a wet device for a long time, the chance is very slim to be repaired. I was willing to give it a try simply because I love my nephew so much and the disappointed look on his face made me sad.  I took the cover off and I could see it was really wet. I had to clean it with a chemical solution. It was shinny again but that did come make the walkie talkie come alive.

After cleaning, I re soldered every single soldering joint on that board.  That brought the walkie talkie back to life but when I tried to connect with the other walkie talkie that he had, it did not work. The RX was being displayed on the screen. For your information, the RX being displayed on the screen mean, this walkie talkie was in receiving mode. It has to be on TX mode to accept the other calls. Everything on this walkie talkie was working except making and receiving calls which tells me that the program in this device is doing its job and it does not need reprogramming on the EPROM IC.
The only thing that I could think about is the crystal on that board. Many times when I worked on cordless phones and there was no connection to base was because of this crystal.

I changed the crystal (20.950y*B) and to my surprised it worked. I could see TX being displayed on the screen and that brought a big smile on my face.
Deep in my mind, I was thinking if I could not fix this walki talki, I was willing to buy a new one for my nephew just to avoid seeing that disappointed look on his face.
A few minutes later, my nephew came to the shop and asked me in a low disappointed voice if it was working or not. I replied with a smile that it worked. I could see his face lighting up and that was my pay for this short fast repair of this walkie talkie.

This article was prepared for you by Waleed Rishmawi, one of our 'Master Authors' and currently working in the Bethlehem area of Palestine repairing electrical and electronic equipment. Please give a support by clicking  on the social buttons below. Your feedback on the post is welcome. Please leave it in the comments.
By the way if you have any good repair article that you want me to publish in this blog please do contact me HERE.
Likes
(

11

)
Dislikes
(

0

)