A Working Welding Machine That Needed Some Tweaking Done. Model: Zika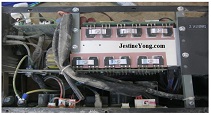 A Welding technician came to my shop; he said that he machine is vibrating when powered on and was wondering what the cause was. While the customer awaits, I powered the machine on and soon enough, it started to make a loud noise and it was vibrating which gave me an indication where the fault is. Let's get started.

After dusting the whole machine off (it was really nasty) I proceeded to the area that needed attention.

The previous photo should give you a hint where the problem is and yes it was the fan.

As you can see, some of the fins on this fan were broken which caused an unbalanced spin when power was applied to the machine.
The only answer to this problem is changing the fan.

According to the customer, this machine has not been maintained for the past seven years which makes this fan an original one from the factory.

I have almost the same fan (the Amp rating is less but workable).
I went ahead and installed the fan but I almost powered on the machine when I noticed this problem.

The DC power polarity was not correct on the new fan so I cut the wires off and did what was needed to be done and powered on the machine.
The Machine was running fine, no vibrations and the voltages were according to specifications but the customer asked me to do another task for him.

The negative and the positive outputs of the machine pins needed replacement. The customer provided these parts for me so I can replace for him.

I did an overall check on the machine and I could not find anything that needed my attention. The customer liked what has been done to his machine and was very generous.
Mission Accomplished.

This article was prepared for you by Waleed Rishmawi, one of our 'Master Authors' and currently working in the Bethlehem area of Palestine repairing electrical and electronic equipment.
P.S- Do you know of any your friends who would benefit from this content that you are reading now? If so, forward this website to your friends or you can invite your friends to subscribe to my newsletter for free in this Link.
Note: You can check his previous article on A Shorted Surround Sound Amplifier Repaired
Likes
(

49

)
Dislikes
(

0

)