ABB 22KW AC Drive Repaired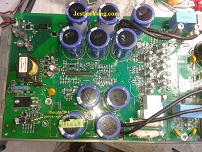 Now, I would like to share with you my repairing task to bring into life one 22KW ABB drive, having experience in repairing electronics in industrial field, I am glad to share with you all I have and  face of electronic failures and troubleshooting strategy.
Let us start with a brief of the problem as the customer brought it :
A big short in the input 400V, Probably due to high spike in the mains network, this lead to distraction of 3 phase bridge type : SKD 53/16 MADE BY SEMIKRON. and IGBT type FS75R12KE3 MADE BY Infineon.


These parts were ordered and installed with no problem, off course after cleaning of the Carbon and the remaining of the old parts. Everything seems to be ok ,.. I start testing the drive but to no sign of life at all .

now I have to start digging for the cause of death of the power side. I made the usual check on the SMD high speed diode and the high frequency transformer, but nothing seems faulty.




With the help of the datasheet i checked the TL3844 CURRENT-MODE PWM controller, i could not find problem, still there is no output from the IC , which is the main part of SMPS.
I went again checking the output high frequency diode , and noted that there is some low resistance compared to the other diode with reference to ground. I made one cut in the board to isolate one line ,.. and after 2 hours of trouble shooting I come to the cause of the problem .. it is the AD34074. It is OP-AMP and there is a short in this IC causing the TL3844 to shut down. Below is the datasheet:

By replacing this IC, the inverter comes to life again and my customer saves a lot of money.



This article was prepared by Muftah H Shawish from Misrata -Libya. He is 49 years old and have more than 27 years experience in troubleshooting and repairing of  industrial systems, electronic control system, temperature controller, Motors drives, Automotive control unit. He was a BET graduate, currently work as a manager of electrical repair dept. in Libyan steel company , running his own electronics repair shop in the afternoon..
Please give a support by clicking on the social buttons below. Your feedback on the post is welcome. Please leave it in the comments.
P.S-  If you enjoyed reading this, click here to subscribe to my blog (free subscription). That way, you'll never miss a post. You can also forward this website link to your friends and colleagues-thanks!
Note: You may check out previous post about fixing active speaker in the below link:
https://jestineyong.com/modification-of-transistorresistors-in-ac-37kw-ls-inverter/
Likes
(

108

)
Dislikes
(

0

)