AC Voltage Protector Repaired Part 2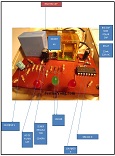 In the first part I mentioned that after replacement with the same part number the device would started to work normally again. However after few weeks of testing the device, it started to malfunction again. Please click the below link to read the first part:
The problem was, after plug into the AC wall socket, all the 3 LEDs were lighted up.

I opened the device and recheck all the components. I checked all the components one by one again and found the big 220uf 25 volt e-cap capacitance value had dropped to 140uf! When I tested this e-cap with my ESR meter I found that the value was 2.1 Ohm instead of 0.4 ohm. The last time I checked on this e-cap it was good. The function of this e-cap is to remove the ripples after the bridge rectifier. Since this e-cap have problem, the uneven DC was supplied to the DBL324 IC.
Due to this, the IC starts to work in a strange manner causing the 3 LEDs to light up. Other components like the diodes were checked to be good. The 5.6 Volt zener diode (C5V6PH) was checked to be good also with my zener diode tester. The conclusion was an e-cap and IC replacement solved the problem. I managed to run this device for longer time and this time it was running very well.

Note: We as repair tech will do the best we can to solve electronics problem but sometimes you will get repeated call by customers because even though you have tested the repaired equipment for many hours and days, there will be certain percentage the repaired equipment will break down again. Example, you found a secondary diode in power section shorted but after few weeks one of the secondary filter capacitors started to give problem. On the first repair you are very sure that you have tested the secondary filter capacitors and all were found to be good. Although it is rare to see such problem, it does happen.
This article was prepared for you by Mr Beh, one of our 'Master Authors' from Iran.
Please give a support by clicking  on the social buttons below. Your feedback on the post is welcome. Please leave it in the comments.
By the way if you have any good repair article that you want me to publish in this blog please do contact me HERE.
Likes
(

133

)
Dislikes
(

0

)