Acer Aspire 5560 Laptop Repair- No Power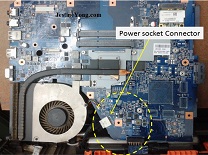 Received a Acer Aspire 5560 Laptop for repair from customer with the complaint of no power symptom.
Primary inspection I found fault symptom as follows – No display on screen, battery led indicator lights up but does not light up the power LED.

After pressing power switch there was no power LED which means the laptop was not getting power from the adapter but the adapter checked to be good => +19 Vdc output. The orange LED lighted up means it gets power from the battery. Then where is the problem?
Now it is time to disassemble the Laptop for further inspection, so process of disassembling is started. I am always using empty matchbox for keeping bunch of screws. Removed keyboard and palm rest cover so that we can reach to the motherboard.

On visualizing inspection I did not find any burn mark or physical damage.

By using a magnifier glass (very useful tool for inspection) I found power connector pins had dry joints.

Refreshed the solder and powered was turned On the laptop still the same symptom. Hence next step is to test Power Switch on the Palm rest, removed power switch PCB from the palm rest.

Checked power switch with the help of multimeter and found it Ok but here I found dry solder on power switch and cable connector PCB also. I applied fresh solder on the PCB.
I have again connected the Laptop on power to see the result and instantly I got the power indicator light while switching it on through the switch. So I have re assembled the laptop and kept it for charging for two hours to see the final result.

Here previously we are getting Orange Light that Indicates of low battery and in the charging mode hence Laptop is not turning "ON" on Battery. And on getting power from adapter it switched to battery charging mode and after fully charged it turned to Blue. And finally on pressing power switch, I got the display on the Laptop screen.

So for this fault symptom the culprit were dry solder , and laptop is not working on battery mode because battery is not getting charging voltages (19V DC) from the adapter hence it was not charging and  battery was totally drained .

This article was prepared for you by Yogesh Panchal who works as a Computer Hardware Engineer in Mumbai India.
Please give a support by clicking on the social buttons below. Your feedback on the post is welcome. Please leave it in the comments.
P.S- Do you know of any your friends who would benefit from this content that you are reading now? If so, forward this website to your friends or you can invite your friends to subscribe to my newsletter for free in this Link.
Note: You can check his previous repair articles on LCD Monitor in the link below:
https://jestineyong.com/sony-vaio-laptop-repair/
Likes
(

183

)
Dislikes
(

0

)