ACER ES1 520 Laptop With No Display Fixed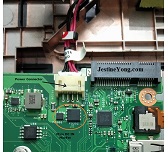 Received the laptop with no power problem.
Symptom: when pressing the power switch power led indicator light up for the moment and goes OFF.
First of all checked the Voltages of laptop Charger found 20V i.e. OK. Normally for testing we have to segregate the suspected area like we have to replace the Battery and power "ON" the Unit only on charger if it works then problem related to battery and respected Circuit on the motherboard & if laptop is powering ON using Battery then problem is with Charger adaptor and respected circuit on Motherboard.
Here it gives problem both the way so for further inspection I have disassembled the laptop.

And removed Motherboard for visual Inspection …..Didn't found and physical damage or Burnt out.

Removed the DC IN cable from the motherboard power socket and Checked for 20V on cable Connector found OK i.e. charger and connectors are ok. Now connected cable on the motherboard connector and tested Voltages on the Main MosFet.
Drain = 19V
Source= 0V
Gate =0V
Here on Drain we are getting 19V because it is Always ON Voltage it will present on all power section on motherboard when you power the laptop either from the charger or from Battery. As this is N-channel MosFet it gets triggered when Gate receiving signal/Voltage (18 to 20V) and you get output from the Source of the MosFet.
But here Gate showing 0 Voltage that mean it is not triggering and giving O/P Voltages in further section for work.
In normal working when you press the power switch Super I/O chip receive the signal of DC in and by confirming the input signal it release signal O/P to MosFet driver circuit in various sections. Till all the sections having always ON Voltage in all the section but they will not come in process till get the order/Signal from the Super I/O.

So now we have to trace from where this MosFet is getting Gate Trigger Voltage.
If you have schematic of motherboard you can easily trace the circuit. If you have some basic tracing skill you can find it using Multimeter Beep mode on cold testing.
(When Motherboard is powered "OFF"). Put one probe on Gate Pin of the MosFet. And by other probe you can touch surrounding components where you get the Beep.
Note: in laptop you can never imagine which section component is located which side of the motherboard.
Some time you get Main MosFet on one side of the board and supporting MosFet on other (Backside) of the Board. Even I found same Model and same series of motherboard some time not matching the component location.
So I have downloaded the schematic diagram and by tracing I found that the Main MosFet driver IC is located on back side of the Motherboard near Battery charging section.

I have checked the voltages on surrounding component but not getting any Voltage. I have checked Surrounding components for short circuit but everything seems ok on this side. Now I have turned the board and start fault finding on Battery section Circuit.
Testing in Battery Charging connector surrounding components I found One SMD Capacitor showing shorting with ground.

Hence I removed the capacitor for confirmation


I have made SMD Holder for holding tiny SMD parts while testing.because many time part get skipped while testing and finding it is another big job.

On testing this capacitor Outside the Circuit it is confirmed that Capacitor is short.
But I am not having the same capacitor for replacement and there is no marking on board for resistor and on other tiny components so it is difficult to identify the component from circuit diagram to physical location on the board.
As per technical scenario this capacitor is connected with the ground hence I taken the chance to test the laptop without capacitor.
Hence I have reassembled the laptop and powered on………I got the display

In this Pandemic covide19 lockdown when all the markets are closed in our state hence I have not in possession to arrange the capacitor form my techno friends and customer need this laptop urgently. (Also In hurry I have not taken some Voltage testing photographs) by convincing to the customer fact about the problematic component which is removed from the PCB .He is agree to collect it in same condition. I have kept this laptop on burn-in test for one day it worked without any problem and customer took it a day after.

This article was prepared for you by Yogesh Panchal who works as a Computer Hardware Engineer in Mumbai India.
P.S- Do you know of any your friends who would benefit from this content that you are reading now? If so, forward this website to your friends or you can invite your friends to subscribe to my newsletter for free in this Link.
Note: You can check his previous repair articles in the link below:
https://jestineyong.com/hp-laptop-with-disk-0-error-fixed/
Likes
(

67

)
Dislikes
(

0

)