Acer LCD Monitor Repair- 22 Inch AL2216W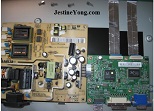 A few months ago my brother in The Hague called me up to ask me advice on how to repair his Acer 22 inch PC LCD Monitor with the model of AL2216W. I told him to look inside on the Power and HV board for bulged Electrolytic Capacitors.
He had opened his monitor to look but didn't trust his solder experience. So recently I got his Monitor to have a look myself and see why it wouldn't start. See the Box Label photo below:


Before both Power/HV Board and Video Board can be reached I used my terrific Wera WE-013400495 SW 5/230mm T-Handle Hexagon Wrench to remove the VGA/DVI Connector Bolts quickly and easy. As can be seen on previous photos:




On previous photos the 2 Bulged Capacitors were easily noticed. Both were 220uF 25V. I replaced them by two 220uF 50V types. Below the bad bulged capacitors after removing.


After both Capacitors on the Power and HV Board were replaced I tested the Acer LCD Monitor and everything worked splendidly again. Because my brother lives about 172 Km from my hometown Weert, I have to wait until he or one of my other brother or sisters have the time to come to get the like new working Monitor.
An easy repair which often is all about just replacing the bulged capacitors on the Power/HV Board. Until another repair, hopefully more interesting.

Albert van Bemmelen, Weert, The Netherlands.
Please give a support by clicking on the social buttons below. Your feedback on the post is welcome. Please leave it in the comments.
P.S- If you enjoyed reading this, click here to subscribe to my blog (free subscription). That way, you'll never miss a post. You can also forward this website link to your friends and colleagues-thanks!
Note: You can read his previous repair article in the below link:
https://jestineyong.com/laptop-power-supply-repair/
https://jestineyong.com/how-to-repair-lcd-monitor-flicker-hp2509m/
Likes
(

132

)
Dislikes
(

0

)