An Iphone 5C With A Bad Speaker Replaced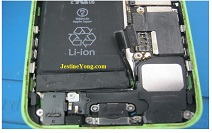 Sunday morning as I was entering church, a blind land approached and asked me to take a look on her iphone 5c because the sound was too low. As a blind lady, she depends on sound to work out her phone and therefore it got my attention and tried to help her out but when I put the volume up on the phone it was already up but still sound was too low to hear which an indication of a bad or dirty speaker.

This is an old phone to find parts for but I was lucky to find the exact phone in my shop that has an ICloud issue but the speaker was fine.

I took the two screws off holding the screen assembly and opened the phone.
Right away I spotted the speaker and headed that directly to replace it.

It is a good procedure to start with before replacing anything on any phone is to disconnect the battery and that is what I did.


The speaker was off and when I looked inside of it, it was full of dirt and dust.
I did not bother to clean it; instead, I decided to replace the whole assembly with a new one.

Yes, the new one is on the left side of the photo. Putting it back was an easy thing to do and once I was done with that, I closed the phone for testing.

The phone actually read to me what was seen on the screen; it was to inform me about the time, date and also letting me know that the phone has no SIM card installed but in Arabic. It was loud and clear and I think the lady will be so happy to get this phone with a louder voice to hear and understand.
Mission Accomplished.

This article was prepared for you by Waleed Rishmawi, one of our 'Master Authors' and currently working in the Bethlehem area of Palestine repairing electrical and electronic equipment.
P.S- Do you know of any your friends who would benefit from this content that you are reading now? If so, forward this website to your friends or you can invite your friends to subscribe to my newsletter for free in this Link.
Note: You can check his previous article on Using Current Limiter To Test A Faulty LCD Projector
Likes
(

48

)
Dislikes
(

0

)