An Unusual Microwave Oven Symptom Repaired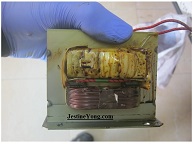 A friend of mine approached me when I was picking up my son from school and asked me about his microwave oven. He had the oven in the trunk of his car and when I looked at it, it smelled like something was burnt in it and it smells like burnt bread.

What made the situation worse is the mom who tried to clean it up with water inside the microwave heating area so when the water got inside and they tried to use the oven, the earth leakage switch tripped so the customer was kind of scared why this was happening.
Later on I found out that his young daughter when she was alone in the house, tried to heat up some bread but kept it heating up for almost an hour so when the customer came into the house, there was dark smoke all over the place.

So the plan for this repair is to clean everything up and hope for the best and based on that I started a thrill cleaning inside the microwave oven.

I started cleaning the main power transformer, the bleeding diode, the capacitor, the fan and then the magnetron heating head

All these area were drawing in bunt stuff mixed with water but after the cleaning, it was almost spotless but it took me a lot of time and effort to get it clean.

That is the area of the capacitor, the bleeding diode and the transformer had been cleaned to get this microwave oven up and running.

That is the cover of the microwave oven from the inside and as you can see, it was cover in burnt bread and mixed with liquid.
I was so lucky to say that after all this cleaning and drying up any liquid in there, I was able to bring this microwave oven back to life. It was up and running to that I can say, it was a messy Mission accomplished.

This article was prepared for you by Waleed Rishmawi, one of our 'Master Authors' and currently working in the Bethlehem area of Palestine repairing electrical and electronic equipment.
P.S- Do you know of any your friends who would benefit from this content that you are reading now? If so, forward this website to your friends or you can invite your friends to subscribe to my newsletter for free in this Link.
Note: You can check his previous repair articles in the link below:
https://jestineyong.com/bleeding-diode-shorted/
Likes
(

74

)
Dislikes
(

0

)