An Xbox (One) Station That Keeps Shutting Down Repaired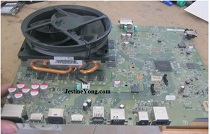 My cousin's son brought this Xbox station for repair. He explained that this machine keeps shutting down. Shutting down happens sometimes happen in five minutes sometimes, one hour but either way, this has to be repaired.
From experience, shutting down happens for some reasons but the main reason would be over heating or some bad capacitors in the power supply. We need to open it and find out. First thing to check was the main power supply. To do that, only four screws off and you will see the inside of it. There is a fan there too. Let us check it out.

These are the specification of the power supply. It has instruction on it like the LED status, when the machine is on or off.
I noticed that when the machine shuts down, the power supply switches to orange which according the instructions here, it goes into standby mode.

I could see a lot of dust but once it was cleaned, I could not see any bulged capacitors or any dry joints even. It was in top conditions. But once I checked the fan, well, take a look

It is a 12 volts fan and as you can see, it was full of dust and when I tried to move it with my finger, the fan did not rotate. Did some cleaning and lubrication and connected it back to the power supply and the fan spin just fine.

I put everything back together and started the Xbox but sad to say, it went into shut down in about four to five minutes. It was time to open the machine.
Taking the machine apart is very easy and if you want to check it out in full details you can find it on YouTube.

When I got to the main chip, I could see why it was shutting down. The thermal paste was dry and most of it was on the side of it not on the top of it. Here is a closer look

It was time to clean the main chip and replace the thermal paste and give it a try. In order to get to this chip, you can to get the X clamp in the back of this board. Sorry I forgot to take a photo of it.

This is the heat sink that goes on the top of the Xbox station.
This has to be cleaned as well before adding any thermal paste on it.

I added the thermal paste on the chip and not on the heat sink and I spread it out using a flat plastic piece. Once this was done, I installed the heat sink and added the X clamp back. Very good ideas to clean the fan while you at it.


This is the thermal paste that I added on the top of the main chip. I bought a lot of it on my last trip to the USA. It is very good paste and works amazingly well.

That is the top section of the machine with the screws tightened.

The only thing left to do is to power on the machine and give it a try. My son enjoyed playing games on this machine. I know I am not supposed to let anybody play with it without the agreement of the customer, as I said he was close family and that is the only way to make sure it was working fine.
It worked for hours and it did not shut down. The only thing I regret that my son loved the Xbox and now he is asking me to buy him one.
Mission Accomplished.

This article was prepared for you by Waleed Rishmawi, one of our 'Master Authors' and currently working in the Bethlehem area of Palestine repairing electrical and electronic equipment.
P.S- Do you know of any your friends who would benefit from this content that you are reading now? If so, forward this website to your friends or you can invite your friends to subscribe to my newsletter for free in this Link.
Note: You can check his previous repair articles in the link below:
http://www.electronicsrepairfaq.com/a-shorted-bike-battery-charger-repaired-model-sslg084v42
Likes
(

70

)
Dislikes
(

1

)