Another F61 Issue On A Panasonic Sound System Repaired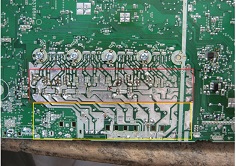 A fitness club manager brought this Panasonic DJ device for repair. When I saw the device, I could guess it was an F61 issue; I asked the customer about it and he confirmed my diagnoses although I did not open or checked the device yet. He smile and said how did you know? I said it is experience my friend, so let the repair begins.

I have seen this issue before. I shared it in one of my articles; the problem keeps appearing in the Panasonic devices for some reason, is that a defect in the manufacture? I do not know but I keep getting this issue a lot in my shop.
The question: Is it the same fault requiring the same repair, there is one way to find out.

I took the cover off and I was able to see the dirt inside the device. It was not easy getting to the main board but…

That is the upper board that has to be taken out to get to the button board, so the process of getting to the faulty board is long but I was getting there.

There were a lot of wires to be unhooked so I took a lot of photos to make sure all the wires come back where they should be but I do not want to annoy you with all these details…LOL.
I put this board under my microscope and I was able to see all the solder/cracked soldering joints. Would this solve the problem? I cleaned the area, applied fresh solder on these marked areas and hoped for the best.

I did a lot of cleaning inside out on this device and looked for more cold/cracked soldering joint but found none, so I put the boards back together and with the help of my simple camera I was able to put the wires back where they belong and powered on the device.

The F61 display was gone and I was able to play music through the USB device; it worked like a charm. I called the customer for pick up and he was happy with the outcome. He tested everything on that device and explained that some of these USB ports were not functioning before and now they are so he was delighted with that as well.
Mission Accomplished.

This article was prepared for you by Waleed Rishmawi, one of our 'Master Authors' and currently working in the Bethlehem area of Palestine repairing electrical and electronic equipment.
P.S- Do you know of any your friends who would benefit from this content that you are reading now? If so, forward this website to your friends or you can invite your friends to subscribe to my newsletter for free in this Link.
Note: You can check his previous article on A PS4 Controller With A Drifting Issue Repaired
Likes
(

49

)
Dislikes
(

0

)