AOC 2219VG 22" LCD Monitor with No Display Repaired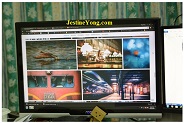 I obtain this AOC 2219VG 22" LCD monitor from my friend during a university friends reunion held few months ago. The monitor does not power up and he intended to discard it into the trash bin. Since he is discarding it, I stopped him from throwing it and I took this monitor home hoping to revive it.

I went back home and power the monitor from my pc. The power light is in standby mode (orange) but upon pressing power button the light turns yellow and nothing shown on the screen.
When shine torchlight directly to the screen, at certain angle, I was able to see a glimpse of AOC logo but very dim. The below is the illustration I did similar to my observation as it is too dim to snap through camera.

Initially I suspected the backlight inverter must be faulty as the AOC logo was very dim but I need to look into it to see what went wrong. In order to reach the pcb boards, the whole monitor bezel are required to be removed. The plastic bezel is pretty tricky to remove. You may refer to this link on how to remove the bezel, similar model from AOC.
https://www.youtube.com/watch?v=FfbmQRuqDD0
I'm using flat metal pry bar to open the bezel up. It is a vital to have a pry bar as nowadays more and more appliances are assembled using plastic bezel which may be fragile and easily damaged when using traditional flat tip screwdriver.

Once the bezel is removed, the whole unit is shielded with aluminium casing. 

On the left, there are 4 wires needs to be disconnected before removing the aluminium casing. These are the CFC backlight power wires.

Upon lifting up the aluminium casing, further remove the flex cable & button control board. From there, look like there are two boards only. Further unscrew the two boards from the casing. 

On the power board, two bulge capacitors was spotted, 1000uF 16v rating. 

Both capacitors removed and measure are indeed bad value capacitors. Way out the values, no wonder it does not power up properly. 

I replaced both faulty capacitors with 1000uF at higher rating 25v. As long space is not a constrain on the board, it is good to put a higher rating capacitor into it. 

I plug everything back together to try on a power up again but without mounting on the casing. I place a piece of cardboard below the PCB to avoid getting shorted by the LCD panel body.
The unit is able to power up with a bright AOC logo compared to initially was very dim. I assemble back the aluminium casing and the bezel. Assembling bezel was much easier than disassembling it. It should be a good sign! 

And yes, the LCD monitor is revived with a minor repair. Although it's good but now it is paired up as my extended monitor (secondary monitor) on my desktop. In conclusion, do not throw anything first, inspect and put a bit of effort that might revive it.


YH Wong is from Malaysia with a degree in Computer Engineering. Currently, work as a test engineer in semiconductor industry. Avid in troubleshooting & repairing electronic gadgets related.
Please give a support by clicking on the social buttons below. Your feedback on the post is welcome. Please leave it in the comments.
P.S- If you enjoyed reading this, click here to subscribe to my blog (free subscription). That way, you'll never miss a post. You can also forward this website link to your friends and colleagues-thanks!
Note: You can check out his previous repair article in the link below:
https://jestineyong.com/panasonic-national-remote-control-fan-no-power-symptom/
Likes
(

121

)
Dislikes
(

0

)