APC UPS Replacement Battery Connector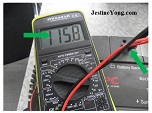 This APC Uninterruptible Power Supply (UPS) Model No.: Back-UPS ES 500 was given to me and the complaint was it was not turning on.

Then I removed the back cover (battery receptacle) to disarm the unit.

When the battery was out, look what I saw:

The negative terminal was fully corroded, and this situation is synonym of false contact (this situation produces overheating);
therefore it had to be substituted for other terminal in good conditions.

A terminal in good conditions was taken from another out of use UPS. The new terminal was welded into the negative cable which attaches the battery, and isolated later with a piece of shrink tube.

The battery was re-inserted in its receptacle, and when the unit was turned on, look what happened.

The device worked perfectly. The owner was smiling. Mission accomplished.

This article was prepared for you by Humberto Rodriguez, one of our 'Master Authors' from Cuba.
Please give a support by clicking  on the social buttons below. Your feedback on the post is welcome. Please leave it in the comments.
P.S- Do you know of any your friends who would benefit from this content that you are reading now? If so, forward this website to your friends or you can invite your friends to subscribe to my newsletter for free in this Link.
Likes
(

255

)
Dislikes
(

3

)