Apple Power Adapter Cable Repaired. Model: Magsafe 2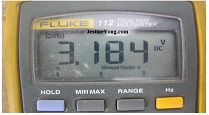 As I went to get my son from school, the American principle of that school and also my friend approached me with a question. He said he as an apple power charger that needed fixing and he asked me if I do such repairs.
He said he had problem with its cable that he added an electrical tape to it and once he did that, the charger stopped working.

It is a nice clean one from one side but on the other side it is a different story.

By adding an electrical tape to this bad wire actually shorted the negative and the positive together causing the charger not to function. My only concern is, was it a dead short on the inside or not?

It was tricky to open it up. And I needed both hand to open it and I could not take a photo of that process. There are many videos on the internet that explain the way of taking this apart. Once it was open, I saw the metal shield, again, two soldering spots on that shield and it was off.

It looked good on the inside. I could not see any shorted spot and all the capacitors were in good shape; So far so good.

I soldered the old cable off board, stripped the wires and then add heat shrink tube to the ground wire so I will not short out any component nearby.


I put everything back together. I added silicon to the wire and glued the rest of the power supply with super glue.
Now, here was my misunderstanding of these chargers.  When I connected the power charger to power and measured the voltage reading there, it showed me only 3.18 DC volts out of 20 volts as it was written on the charger.

My question was why it was showing me only that reading instead of 20 volts reading. That troubled me and I thought there was something wrong with the charger. I did not have a laptop to try on and therefore, I was confused.
After checking it out on the net, it was mentioned that it needs a load in order to give the full reading. The only way to test it is to try it on the laptop or add a resister load on it to test it out. The school was nearby so I went there and connected the charger to the laptop and it worked fine.

Mission accomplished.

This article was prepared for you by Waleed Rishmawi, one of our 'Master Authors' and currently working in the Bethlehem area of Palestine repairing electrical and electronic equipment.
Please give a support by clicking on the social buttons below. Your feedback on the post is welcome. Please leave it in the comments. If you have electronic repair articles to share with us, please contact us HERE.
P.S-  If you enjoyed reading this, click here to subscribe to my blog (free subscription). That way, you'll never miss a post. You can also forward this website link to your friends and colleagues-thanks!
Note: You may check out previous post in the below link:
https://jestineyong.com/how-to-repair-a-dead-hoverboard-model-uera-esu010/
Likes
(

96

)
Dislikes
(

1

)