Bad AM-FM IC Replaced In Philips Radio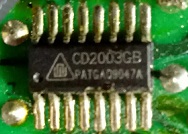 TRANSPLANTATION OF BOARD IN PHILIPS RADIO!

This is a story of utter confusion due to miscommunication. This Philips RL118 Radio was sent by one of my technician friends, stating that it needed a replacement of the Gang, as it was found to be defective due to damage of PVC insulations inside. Unfortunately, this was delivered to my home much later, when I was not in station. Though my wife asked the guy to write down his name and telephone number, he just wrote down his name, stating that he was known to me. On my return, I saw this set lying on the table, with a slip, in which a name was written, with his father's name and the location, but no telephone number. I could not place this guy at all, as my wife forgot what other things this guy communicated. I tried contacting a couple of my regular customers in that area and enquired whether they had sent any Radio for Repair, but got negative replies. I could not relate to whom this set belonged or what the complaint was. I could never connect this to the telecon my technician friend had with me before sending, as the guy who delivered it never mentioned that it was sent by him! Anyhow, I opened the set and found symptoms of previous
opening and meddling. I switched on the set and noticed that it was not picking up any stations either in AM or FM. It used a single IC, with triple power supply, one from the mains, another from rechargeable batteries and yet another from dry cell compartment. The customer can have the option of using any one f these. When the mains are inserted, internal supply is disconnected. An option switch is provided at the rear to use internal or external power, which can be seen on the second picture above. Here are the pictures of the inside:




I checked all the related components including electrolytic capacitors and could not find anything wrong. Bad luck, as it turned out to be, I never recollected or related the complaint on Gang, nor did I check it up visually. There was no need, as the gang turned without any catch. No suspicion normally goes into such a peculiar complaint, if not specified beforehand. As I have had experiences of the IC failing, I ordered for it, but got an IC, the number of which looked same, and the fitting was also proper. When I asked why the prefix was different to the supplier, he told the ICs were same. So, I replaced it and this time, the result was total silence when switched on. Then I searched for the IC Data and knew that this was a different IC. The links for both the IC date are given below:

https://www.seeedstudio.com/document/pdf/ULN2003%20Datasheet.pdf
http://www.ak-modul-bus.de/cat/documentation/CD2003.pdf
You can guess what would have happened to the set by now! I ordered for the correct IC to Aliexpress, as replacement IC was not available locally. I kept the Radio to one side and continued with my other works.
Then one day my technician friend called me and asked me the status of the Radio sent. I was taken aback, but quickly connected the missing puzzle. I replied to him that the IC was defective and I had ordered for it and was waiting for it from Hong Kong. I also told him what his messenger did, of not communicating properly and further that because of inadequate communication, I did not check the gang.
Got the IC. But by this time, the board had become very bad and I could not replace the IC in it. Luckily, for a change this time, I saw a similar set lying with one of the technicians and on enquiry came to know that the set was abandoned by his customer. When I asked whether I can take the gang, he gave the entire set (he had removed the speaker from it). I replaced the IC in it and it worked very well once again! I am giving below details of the Crystals used in this set, which I replaced in the set in my steps of trouble shooting, but later restored back.



I also learnt from the web (I think it was from some service manual of Philips) that if a 10.7 MHz crystal has a Red Dot on it, it is exactly 10.7 else it is 10.75! Something that I never knew before!
But let me tell you one thing, this set is superb in its performance. Very sensitive in Station Pick up and very clear and dynamic sound. Very compact and noise free when operated from battery. Altogether, a good set from Philips that one can buy at an economical price. But one draw back is that the IC is failing and I have had the chances of replacing it in a couple of sets. This statement is supported by my technician friends too. Philips might have to go for a better quality IC!
Another amusing job got collected into my satisfaction bag!

This article was prepared for you by Parasuraman Subramanian from India. He is 69 years old and has more than 30 years' experience in handling antique equipment like Valve Radio, Amps, Reel Tape Recorders and currently studying latest tech-classes conducted by Kerala State Electronics Technicians' Association. He has done graduation in BBA degree, private diploma in Radio Engineering and retired as MD of a USA company. Presently working as Consultant to Hospital and other institutions.
Please give a support by clicking  on the social buttons below. Your feedback on the post is welcome. Please leave it in the comments.
P.S-If you enjoyed reading this, click here to subscribe to my blog (free subscription). That way, you'll never miss a post. You can also forward this website link to your friends and colleagues-thanks!
You may check on his previous repair article below:
https://jestineyong.com/servicing-mercury-smps-kob-ap4400xa/
Likes
(

73

)
Dislikes
(

2

)