Bad Diode SB3100 Found In Samsung LCD Monitor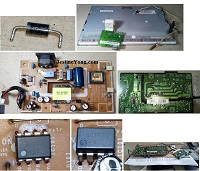 This Samsung LCD Monitor model 632NW belongs to a technician friend of mine, who shifted his line and confined only to servicing Washing Machine, AC Control Boards, and Microwave Ovens etc.

This is a monitor he uses to view and select songs from his USB/DVD player. It became dead and he opened and tried to troubleshoot without paying much attention. He replaced the PWM IC and also the opto-coupler, as he did not see any output. But it remained same in spite of that. That's how he decided to refer it to me, though a little more probing could have solved the case, exposing his aversion towards other devices than what he concentrated.
As he had already opened the set, and done a preliminary cleaning, my job was made simple. I discharged the tank capacitor and removed the SMPS board from its metal casing. Observed for any bulgy capacitors, even though I know he would have checked it himself. Used my Ring Tester and checked the primary of the SMPS Tx and it showed short. Then I checked the secondary for any shorted components. Yes, there indeed was! The Diode SB3100 was dead short. This is a 3A, 100V SCHOTTKY BARRIER RECTIFIER diode.
As I was not having this diode with me, I replaced it with SR360, which is a 3A 60V diode, just to check. The output was coming, but the voltages were less. 3.7V in place of 5 and 11.7 in place of 14. So, probed for any defective components, including ESR checking of all caps. As I could not find any, I did a dry solder patch-up on the board, including retouching the IC pins. Gave power and noticed that the outputs were perfect. So, connected the board to the mother board and LCD panel and powered it on. It was working perfectly.
Informed my friend, who brought the diode, which I replaced on the board. As he mentioned about some width problem in the display, connected it to my computer and took snaps and send it to him, reassuring that there was nothing wrong. Here are a few pictures of various stages: (The mirror you see is a broken rear view mirror of my old car, which I use for such purposes!)






A job completed without much complications, and got added to my 'satisfaction bag'!

This article was prepared for you by Parasuraman Subramanian from India. He is 69 years old and has more than 30 years' experience in handling antique equipment like Valve Radio, Amps, Reel Tape Recorders and currently studying latest tech-classes conducted by Kerala State Electronics Technicians' Association. He has done graduation in BBA degree, private diploma in Radio Engineering and retired as MD of a USA company. Presently working as Consultant to Hospital and other institutions.
Please give a support by clicking  on the social buttons below. Your feedback on the post is welcome. Please leave it in the comments.
P.S-If you enjoyed reading this, click here to subscribe to my blog (free subscription). That way, you'll never miss a post. You can also forward this website link to your friends and colleagues-thanks!
You may check on his previous repair article below:
https://jestineyong.com/fake-batteries-found-in-xiaomi-power-bank-t10-4/
Likes
(

75

)
Dislikes
(

0

)