Bad High Voltage Capacitor In Microwave Oven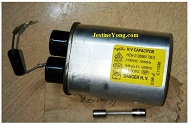 This microwave oven was brought to me with the complaint that it was not heating up, though all other control functions worked well and further that it was returned by a repair shop stating that the big transformer was defective and a replacement could not be found.

I opened the set and did a general cleaning before I investigated into the complaint. I found the secondary high Voltage/low AMP fuse blown. As per guidance given by technician friends, I disconnected all the wires of the main driver transformer and connected its primary to 230V AC directly through a 200W Series Bulb and looked for the output. The Bulb lit indicating that there could be a short in the primary.
When I shared the snap and the details, one of my friends called me up to inform that the TX might draw high current and the bulb would indicate a short. He asked me to check the capacitor for any short. I checked and found that the capacitor was dead short! I replaced the capacitor as well as the protection diode connected to the ground and then reconnected all the wires back and tried. I also replaced the fuse and checked for any short in magnetron before switching on. Yes, the oven was working well, though the question remained how and why the shop said that the TX was defective! (I know them well and they are professionals in electronic servicing. So, it could be a freak mistake, but to my advantage! When the customer told me about that shop, I had immediately replied to him that the shop is known to be professionals and their finding could be right, but anyhow, I shall recheck! We should never accuse anyone or criticize another shop or technician to a customer. Even if the customer brings a set to us accusing another one, we should correct their attitude.
Whenever a customer approached me with a problem in the set and expressed dissatisfaction about a service done by another, I tried my best to educate how things are from a technician's side and have only justified and never join the customer's comments. It is a bad practice and might degrade us!) Here are a few pictures to help those who might be curious to see the inside of a microwave oven. As I forgot to click the oven in working condition, I requested the customer to send me a picture, which he did obligingly.




Defective Capacitor and Diode

Oven in working condition
The work was completed with a thrill and a satisfaction that happily jumped into its collection bag!

This article was prepared for you by Parasuraman Subramanian from India. He is 69 years old and has more than 30 years' experience in handling antique equipment like Valve Radio, Amps, Reel Tape Recorders and currently studying latest tech-classes conducted by Kerala State Electronics Technicians' Association. He has done graduation in BBA degree, private diploma in Radio Engineering and retired as MD of a USA company. Presently working as Consultant to Hospital and other institutions.
Please give a support by clicking on the social buttons below. Your feedback on the post is welcome. Please leave it in the comments.
P.S-If you enjoyed reading this, click here to subscribe to my blog (free subscription). That way, you'll never miss a post. You can also forward this website link to your friends and colleagues-thanks!
You may check on his previous repair article below:
https://jestineyong.com/modified-capstan-wheel-base-support-in-panasonic-two-in-one/
Likes
(

65

)
Dislikes
(

0

)