GQ-A305D Bench Power Supply Repaired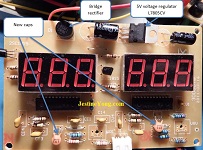 I bought this GQ Variable DC Power Supply, and when I went to test it I found out that it didn't work! The power supply is a +/- 0-30V with 0-5A constant current and constant voltage, and coarse & fine adjustments. The voltage display would show the voltage, but I wasn't getting any current. There wasn't even enough current from it to light a LED.
GQ offered to exchange it, but didn't offer to pay the shipping. I told them that I was tired of paying to send back defective devices. So I decided to try to fix it myself because I was sure that the transformer and relays were good. I figured that if I couldn't fix it, I would rather junk it for parts than pay $20 or so to ship it back to them.
They were sure that the problem was somewhere in the Control board where the main front Pot's are. So that board is the only board they would give me a schematic of. I figured that the problem was on the Mainboard, but they wouldn't give me the schematic for it; and later started ignoring my emails. But they at least gave me that schematic. I can't give you guys the schematic because I gave my word that I wouldn't give away the schematics if they gave them to me.
I found a lot of bad solder joints and problems with this unit. And each time I fixed one problem, I found another. I nearly gave up on it. In fact, I did shelve it for several weeks. But I couldn't give up completely because I knew I had a good transformer, relays, and main components. I checked the wiring also and they seemed to be good except for bad solder joints.



There were dry solder joints and problems galore! I removed the bent over cap and it checked to be good. The -15V regulator L7915CV had bad solder joints and when I removed the solder, a track lifted. So I had to solder a wire to make the connection. I had my Hakko 808 de-soldering gun on number 1 and still lifted that track and I also lifted a track on the Op-amp on the Control board. It was my fault that I had to replace the Op-amp because my probe slipped while I was doing voltage checks on it, which shorted it out. I was afraid the PCB's were junk, but thankfully those were the only tracks that lifted on me until I got to the Display PCB.




While I was waiting for my trimmer resistors and components to get here, I decided to go over the boards again; and look what I found! A bad wire connection that I had previously missed! The wire comes from the emitter of the main NPN power transistor 2DS1047 that is on the big archaic heat sink in front of the fan. It was only hanging on by a couple of strands! Before, I was turning the unit around and checking for bad connections in the wiring. This time I just lifted the main PCB up and over and looked down from a different angle and found the bad connection. This is probably my main problem of not getting current! I'll have to remember in the future to always check PCB's from all angles.
After I found that bad connection, I found more. The wiring looks cheap and they seem to be old and brittle. So I've decided to just replace them all with new wire. I didn't have any good 16 gauge 105⁰C wire, so I ordered some stranded red, black, and yellow spools. My new wire has 26 strands, rated for 600V & 15 A. It should be very dependable and handle the 5 Amps the unit can provide very easily.


Here are a couple close-up pictures of 2 more of the bad wires.


My control board is finished, cleaned, and ready to be installed.

The schematic says that VR1 should be 2.2K. But since the PCB is marked for it to be a 5K trim resistor, I installed a 5K. VR1 goes to the course adjustment POT for the Amps.

I ordered my NTE WH6 series wire from Radio Shack online. The wire I remove from this unit will go straight into the trash. Hopefully when I'm finished I'll at least have a usable bench power supply.

I replaced the heavy wiring with some good wire and I still have no current. So I'm thinking now that maybe I have a problem on the Display PCB. I checked some of the components on it before, but not all of them.
When I checked a 200Ω resistor that goes to a pin on the current LED display on board, it checked open! When I checked the 200Ω resistor on board that goes to the same pin on the voltage LED display, it checked to be good! When I removed the resistor that checked to be bad, it checked good. So maybe my current LED display is bad? They are not very expensive, so I ordered some.
I removed or lifted a lead and checked every resistor and cap on the Display PCB. All of the resistors were good. One 10nF ceramic cap (103) was reading 15nF. It and the other 103 cap are very tiny. I went ahead and replaced them both with larger new 103 caps. The non-leaded solder really looks bad – I hate it.


This is the first time I've had to worry about a LED display, and I'll admit that I've never even looked at the datasheet of one. I asked Mr. Yong about it and he gave me some help and a good link to go to. It's nice having someone like Mr. Yong who is always eager and available to help – thanks Mr. Yong! I don't see how he has the time to do everything he does. He must be a master of time management!
So I re-soldered everything back with some good leaded solder and re-wired the lifted tracks better. I also soldered the current LED display back and decided to see what happens. Hurray – I have current!!




I have a working power supply now! I think the bad diode in the LED display is making it hard for me to get the unit adjusted very well. When my new 0.56" 3 digit 7 segment LED displays get here, I will install one and see if I can get it to adjust better – but for now at least I can use it. I am happy that I finally got the unit repaired! It was time consuming, but I learned a lot. And I also get the satisfaction of a job well done. I also know that the power supply will be much more efficient and dependable now that I fixed a lot of bad soldering and replaced the main current carrying wires. The whole wires are actually soldered in – not just a few strands of them!  I'm sure the power factor of the unit is much better now.
I hope you guys enjoyed this repair. Please give any comments or suggestions you have below. Thanks.

This article was written by Robert Calk Jr. He is an Electronics Hobbyist and loves learning electronics and device repair.
Please give a support by clicking  on the social buttons below. Your feedback on the post is welcome. Please leave it in the comments.
P.S- Do you know of any your friends who would benefit from this content that you are reading now? If so, forward this website to your friends or you can invite your friends to subscribe to my newsletter for free in this Link.
Likes
(

249

)
Dislikes
(

2

)