Beware Of Scam Emails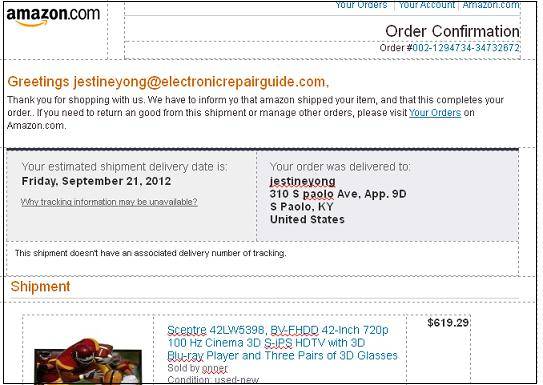 I used to get scam emails about they have been robbed and need money to go back to their country and etc and i will delete it but today I've got an email stated that I have ordered a TV from amazon.com that they are sending the TV to my address. From the screen they have typed in the correct email address but not the shipping adress because I'm not from USA. The whole purposes of the scammers sending such email is to trick you to click on the links that have provided. Scammers nowadays will use all kind of ways to trick their victims. They will design such a way that is very convincing. If you move your mouse to point on the links instead showing www.amazon.com it will show some other URL. If you click on the link, your computer histories information could be secretly send to them without you knowing it. Worst, virus program can be channeled to your computer.
The moral of the story here is to let you know that if you are unsure of the purpose of the email just delete it. It is safe better than sorry later. I'm not sure what kind of scam emails that you have got and if you have, please do leave a comment so that other readers will be aware of it and not get cheated.
Likes
(

0

)
Dislikes
(

0

)