Birth of a good amplifier from the junkyard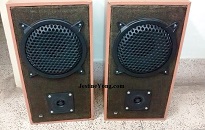 I had one component system brought to me for repair long back. It had got hit by lightning and almost all its control functions, including Micro Controller became bad. The customer wanted me to try to bring alive only its amplifier, leaving the 3 CD changer, 2 deck Tape and AM/FM Tuner.   Since the power amp IC STK407-070B was short, along with the protective components, I had to import this IC from Utsource, Hongkong.   I ordered for three, anticipating that should there be a problem, I need to have spare of two. Two ICs had to be used, as one failed within a short time. The other one was lying in my stock for quite sometime now.   Then, one day, when I was having some free time and mood, an idea struck as to why not I assemble an amplifier using the STK407-070B lying in my stock. Following is the result of this idea:

The power supply was made from a 3A, 15-12-0-12-15, 230V Transformer, leaving the 12V leads untouched. I got (+/-) 20V from this, as this IC uses dual power supply. The PS circuit is given in the circuit diagram. The components used are: 4x6A rectifier diodes, 4×103/100V (.01) ceramic capacitors, 2x4700mfd/100V electrolytic capacitors, 3A Fuse, AC on/off switch, power on LED directly connected to AC ground and one output of TX, using a current limiting resistor.  The DC was checked for ripple free output.
The circuit diagram is given below:

Connected the IC to a common board, clearly marking the pin numbers on the back side. Provided a very good, heavy heat sink.  Populated the PCB with components as per the circuit diagram, making some changes. The input from two RC sockets were fed to a dual 100K Variable Resistor. The centre points were fed to positive side of the two (left and right) 1mfd/63V capacitors, for line in to IC.
The Resistors R3315/16, Capacitors C3315/16 were omitted. C3313/14 bipolar caps were replaced with the 1mfd 63V normal electrolytic caps. R3323/24 and R3351/52 were omitted.  In place of D3301/02, IN4148 Diodes were used.  1A Fuses were provided to the output that goes to speakers. I provided a headphone socket also, just for easy trouble shooting. Here are some pictures:





For the speakers, I got a couple of unused speaker boxes, woofers (Dual, West German, 50W) and Philips Tweeters from a friend of mine. The tweeters were having open coil. So I pried open the front ring, removed screws holding the rear magnet, took out the coil assembly, traced the connecting wires were corroded (these were lying unused since 1976). Replaced with thin strands of took out of shielded cable.  Both had same problem, and the coils were in tact, only the connecting wires were cut. Please see picture below to know, which ring of the tweeter has to be pried open:

The front panel of the speaker boxes were worn out, as it belonged to 1976! I got it replaced by fresh 1/2″ thick plywood by a local carpenter, who did a good job. The woofers and tweeters were fit in. I used a 3.3Mfd/50V bipolar capacitor for connecting to tweeter from the positive side of the the woofer. Woofer was directly connected to the outputs.



The result is excellent!
Another friend of mine wanted this amplifier for his home use, after listening to its wonderful performance!  So, now I am in the process of adding a cooling fan outside, by putting appropriate holes. Since there is no space inside, I may have to fit it outside at the rear side of the amp, where the heat sink is seen.I will put a few holes and put the fan there and put a few holes at the bottom, so that the air comes directly on to the IC from the bottom.For its DC supply, I will use one of the unused 12V of the transformer, and use a rectifier diode and capacitor with a 7812 IC for regulation. So, another Amplifier took birth from the junkyard!
PATCHING UP TWEETERS
Here is the sequence of self-speaking pictures to pry open a tweeter, dismantle the coil, check its continuity, patch up corroded coil ends that reach the two pins: (Since the connector ends, the strands and the patch up strand provided are too tiny, my mobile camera could not capture it).  Please remember to mark +/- on the coil, before removing it from the magnet slot.
So another Tweeter is saved from going into junkyard!

Best regards and thanks
An existence expressed as Parasuraman in this birth!
This article was prepared for you by Parasuraman Subramanian from India. He has more than 30 years' experience in handling antiques equipment Valve Radio, Amps, Reel Tape Recorders and currently studying latest techs classes conduct by Kerala State Electronics Technicians' Association. He was a BBA graduate, retired as MD of a USA company and presently working as Consultant Manager, Purchase & IT, in Irinjalakuda Cooperative Hospital.
Please give a support by clicking  on the social buttons below. Your feedback on the post is welcome. Please leave it in the comments.
P.S-  If you enjoyed reading this, click here to subscribe to my blog (free subscription). That way, you'll never miss a post. You can also forward this website link to your friends and colleagues-thanks!
You may check out his previous repair article in the below link:
https://www.jestineyong.com/rescue-of-a-sound-craft-mixer-epm8/
Likes
(

160

)
Dislikes
(

0

)