Bleeding Diode Shorted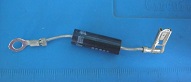 This week was a crazy repair week for me since most of the repair devices brought to me were microwave ovens that do not produce heat.

This one had the issue of no heat and there are many reasons why such issue takes place in a microwave oven.
Usually, the magnetron head is the main suspect, either it is faulty of components around it are faulty causing the no heat in this device. First and most important thing to do is discharging the main capacitor.

This is the main capacitor and by touching both terminals with two insulated screw drivers you might hear a little or sometimes big zap in that area. Please I cannot stress this enough, discharge it before doing any repair on this device.
Now that it is safe to work on this device, let us begin. If you can see the white plastic piece in this photo, that is the fuse holder and when testing with a multi meter, I could see that the fuse was intact.

That is the magnetron head that is responsible for heating and by setting the multi meter to ohm and testing between, the two pins and the body of the heat; there should be no reading what so ever. In my case the head was damaged and had to be replaced.

This is a brand new magnetron head and I replaced directly in the place of the faulty one.

That is where the magnetron location in the microwave oven. Two screws holding this head and very easy to replace.
Before any testing, usually when I replace the magnetron, I test the bleeding diode that is attached to the capacitor and see if that is shorted to ground or not. Usually, when testing it with a multi meter, the meter cannot measure it and it shows open both ways but sometime it shows that is shorted and that is the indication to replace it.

In my situation, the bleeding diode was shorted to ground. When replacing a diode, pay attention to the lines presented here. If you look closely to the diode in photo, you will see three lines and the replacement has to be the same otherwise we will have some issues. So far, I did not find an explanation on the net about these lines but I got used to the fact to replace faulty diodes with the same exact image.

Here you can see the bleeding diode with clear lines on the left side of it. After replacing these two faulty parts, I powered on the microwave oven and heated some water in a cup and it was totally up to specs.
Mission accomplished.

This article was prepared for you by Waleed Rishmawi, one of our 'Master Authors' and currently working in the Bethlehem area of Palestine repairing electrical and electronic equipment.
P.S- Do you know of any your friends who would benefit from this content that you are reading now? If so, forward this website to your friends or you can invite your friends to subscribe to my newsletter for free in this Link.
Note: You can check his previous repair articles in the link below:
https://jestineyong.com/xbox-drive-rejecting-cds-repaired-model-xbox-one-s/
Likes
(

69

)
Dislikes
(

0

)