Blue Screen Of Death In PC Problem Solved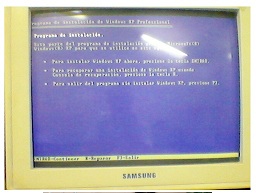 A co-worker came to me because he could not reinstall the Operating System (OS) in his ASUS P5LD2-VM because it was appearing a "Blue Screen of Death" constantly during the reinstallation.

The error was 07B, as shown in photos above, this error was searched in the Internet, but everything provided was not correct for me. So I decided to disassemble the PC taking off the lateral cover, and I could appreciate that the Hard Disk Drive (HDD) was connected to a red IDE connector in the Motherboard. When I entered to the BIOS the HDD did not appear as connected:Wow! What a surprise now.
The other step was to read the User Guide of this Motherboard and look for some information in the Support CD.

In the User Guide of this motherboard this red connector was described as ITE IDE connector (40-1 pin PRI_EIDE red): supported by ITE8211F controller, this connector is for Ultra ATA 133/100/66 signal cables. This connector supports two IDE hard disk drives for easier data storage.
As the User Guide explained the above mentioned, you can go to the Support CD and search the folders: Drivers\ITE8211 and in this location is the real driver for this Red IDE connector.

In other words, this connector is only useful when you reinstall the OS and its driver later. That's why the OS could not be reinstalled and the HDD did not appear in the BIOS.
Once the IDE ribbon was inserted in the other IDE connector (Primary IDE connector 40-1 pin PRI_IDE) supplied in the Motherboard the HDD appeared in the BIOS and the reinstallation was carried out without any other problem.

Conclusion: This article has been posted for those who want to know the procedure. Of course the problem can be possible in some other models of ASUS, and also in some other brands.

This article was prepared for you by Mr Humberto Rodriguez from Cuba.
Please give a support by clicking on the social buttons below. Your feedback on the post is welcome. Please leave it in the comments.
P.S- Do you know of any your friends who would benefit from this content that you are reading now? If so, forward this website to your friends or you can invite your friends to subscribe to my newsletter for free in this Link.
Likes

(23)
Dislikes

(0)
Likes
(

0

)
Dislikes
(

0

)