Build Your Own Capacitor Discharge Probe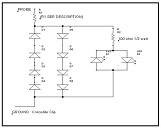 In another post the subject of how to safely discharge ecaps, A/C start caps, microwave oven caps and even 2nd anode leads on CRT type TV's was raised.
You should NOT short the leads of a cap to discharge it. There are 3 good reasons not to do this. First it is dangerous since much energy can be stored in a capacitor, enough to give you a serious jolt or burn your skin. Second, the capacitor can be damaged because of the high current pulse that can take place within the capacitor. Third you will usually pit or possibly ruin the screwdriver you use to short the terminals.
Discharge the high value main filter capacitors in TVs, video monitors; switchmode power supplies (SMPS), microwave oven capacitors, and other similar devices quickly and safely. Use the following circuit to safely discharge capacitors.

D1-8 are 1N4000 series silicon rectifiers or similar.
These diodes raise the junction of R1 about 3v off ground.
This permits the indicator LEDs to light. LEDs are any type without internal resistor.
R1 is 2K ohms for Low Voltage (up to 450 volts)
For Microwave ( 5000 v caps ) ovens use 100K ohms
For TV 2nd anodes use 1 Megohm.
2 Watt resistors should be adequate since current will flow for a short period of time.
R2 is 100 ohms ½ watt and limits the current to the LEDs.
2 LEDS are used to indicate the potential remaining regardless of polarity. When they go out it indicates the cap is fully discharged. Be sure probe is well insulated. A plastic, vinyl or other insulating tube should house the probe. You could place the resistor inside the tube and use a short length of #14 solid wire as a probe end. The whole circuit could be placed inside a plastic tube for safety. Be sure to solder all connections and be sure the ground clip is also insulated. If it comes off the ground point while you are discharging, the full cap voltage will appear on the ground clip. Ouch!
For ground remember to use the same ground point that the capacitor being discharged uses.

This article was prepared for you by George Persico from USA. He is 66 years old and has more than 40 years' experience in TV repair both Tube and Flat Screen. He also currently repairs small appliances, battery operated tools and computers.
Please give a support by clicking on the social buttons below. Your feedback on the post is welcome. Please leave it in the comments.
P.S-  If you enjoyed reading this, click here to subscribe to my blog (free subscription). That way, you'll never miss a post. You can also forward this website link to your friends and colleagues-thanks!
Note: You can check his previous repair article in the below link:
https://www.jestineyong.com/repair-of-amana-goodman-hotel-air-conditioning-control-board/
Likes
(

175

)
Dislikes
(

3

)