Building Your Own RF Field Strength Meter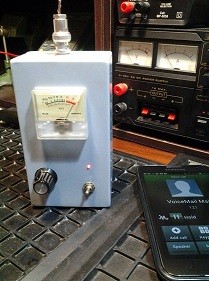 A simple and easy project for a rainy Sunday!
Why would you need one? Sometimes we build electronic projects for fun only, or just for satisfying our technical curiosity; this is what I do sometimes. This project, however, started with a need.
The need originated when a friend called for help to solve an intermittent problem with the UHF transceiver on his boat. The receiving ends reported frequent cuts in his transmission.
I quickly improvised a very simple Field Strength Meter composed of a small antenna, a detector diode, a resistor, capacitor and a Micro Ammeter. Assuming that this simple circuit would be sensitive enough to detect the HF field, providing we keep it close enough to the transmitting antenna. This worked quite well, and the intermittent problem was easily diagnosed and fixed; it was caused by a broken antenna cable, making intermittent contacts. With the meter we were able to see a clear drop of the field strength when moving the cable.
From there, the technical curiosity took over; what if we could improve the circuit, making it more sensitive and, how high in frequency it would still work? Would it work for much higher frequencies such as 2.4 GHz, to check RF fields from Wi-Fi routers and mobile phones?
I gave up (at least temporarily!) to the idea of building a wide range RF amplifier to amplify the antenna signal over that wide range of frequencies. This might be another project for another rainy Sunday (or many more rainy Sundays!). Instead, I preferred trying to amplifying the DC signal after the RF detection and see how far we can go.
And here we go; we have a very simple instrument that can detect the activity of your Wi-Fi router, your mobile phone and about any RF transmitter through a wide range of frequencies.

Fig. 1 Schematic diagram
It is powered by a 9 V battery. The diode is a critical component; it should have a low threshold voltage. The diode used in this circuit is a germanium diode 1N60. A ghost from the past, but it is still available on the market (Escol for example).

 Fig 2. Inside the box. Plenty of space for further developments!
The diode and the 1 nF capacitor are soldered directly at the base of the antenna connector. In the next version of this circuit I would put the 100 K resistor there as well.
Another critical point is the antenna. It should be cut to ¼ wavelengths for the frequency range you want to measure. In this project the antenna was cut to around 3cm length (1/4 wavelength at 2.4 GHz). I soldered a 50 Ohm resistor at the base of the antenna for matching the impedance (Well…  a 47 Ohm was close enough!).

 Fig 3. The antenna for 2.4 GHz 
This simple RF Field Strength Meter proved to be much more effective than expected. It will react to your Wi-Fi router and mobile phone transmitting activities. You can also check the leaks of your microwave hoven, but be careful, put the sensitivity button to a very low position as the signal proved to be very strong! I guess this is normal…

 Fig 4. Reacting to the mobile phone transmission.
Note that the sensitivity button is at a quite low position, showing that the device it quite sensitive at those frequencies.
This project can be built with components we have in our drawers. Who want to go out buying components on a rainy Sunday?  I used a Vu-Meter from a scrapped amplifier for the indicator. The scale is not important as the measurements are comparative anyway. Those Vu-Meters are quite sensitive. The OP Amp can be any one of the common type as we amplify DC only. I used one fond in a drawer…
Possible improvements:
–       A power jack so we can power the device with an external power supply when it is convenient, saving the precious battery life.
–       A better antenna with a better gain. This device can be used to compare the performances of various antennas.
–       A wide range RF amplifier… maybe later.

This article was contributed by Gerald Musy from Penang, Malaysia
Note: If you have any interesting repair article that you want to share to others please do email me HERE
Please give a support by clicking  on the social buttons below. Your feedback on the post is welcome. Please leave it in the comments-thanks.
Likes
(

111

)
Dislikes
(

2

)