Bulged And Stuck Lipo Battery Replaced In JBL Bluetooth Speaker FLIP4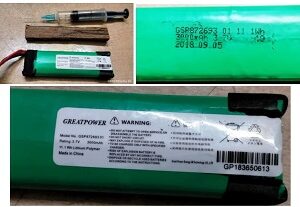 A JBL Bluetooth Speaker model Flip4 was brought to me with the complaint that it had distortions and the battery backup was not enough. In order to remove this audio device, I took help from this video.
Various stages of ripping it open are shown in the following pictures:

Please use control+scroll to zoom. From the last picture you can perhaps see where the battery was located. As it was stuck with sticky tapes and was on top of a couple of strip wires that interconnected the control switches, removing it was extremely difficult. I applied IPA on top and bottom of the battery and slowly released the bond by several repeated attempts.
But the battery had got bulged and was stuck in the slot tightly. I used a wooden piece that was resized to suit the slot and used mild hammering with another wooden plank to remove it. (Please never use any metal tools to remove the battery, as it can cause short, explosion and/or fire!)

As replacement battery was very costly, I ordered for two sets of AAA size NI-MH 1.2V 1100Mah cells to Amazon. (Of-course with the consent of the customer!)

I connected three cells in series and arranged it in such way so as to accommodate it inside the battery compartment of the unit. The output voltage was 3.6V instead of 3.7, which did not matter.
I clarified and confirmed with my techie friend before using this as I was a bit doubtful about the charging method used for Lipo. I put the unit for charging fully. Then when I tried, the device worked very well without any distortion even at full volume. Reassembled the unit (I had to replace a couple of strip wires as the original had got torn when removing the battery) and played it and let me share with you all that it was giving excellent quality audio output, which I never expected from a small system like this! Kudos to the designers!
Mission accomplished and satisfaction got added with vigour!


This article was prepared for you by Parasuraman Subramanian from India. He is 72 years old and has more than 30 years' experience in handling antique equipment like Valve Radio, Amps, Reel Tape Recorders and currently studying latest tech-classes conducted by Kerala State Electronics Technicians' Association. He has done graduation in BBA degree, private diploma in Radio Engineering and retired as MD of a USA company. Presently working as Consultant to Hospital and other institutions.
Please give a support by clicking on the social buttons below. Your feedback on the post is welcome. Please leave it in the comments.
P.S-If you enjoyed reading this, click here to subscribe to my blog (free subscription). That way, you'll never miss a post. You can also forward this website link to your friends and colleagues-thanks!
You may check on his previous article on Swing Motor Shaft Exchanged And Modified In A Nameless Bladeless Fan
Likes
(

43

)
Dislikes
(

0

)