Burnt Jumper Wire In Power Supply Caused LG Monitor To Go Dead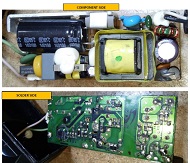 MODEL AND MAKE: LG Adapter of LG Monitor. Model No. ADS-18FSG-19
COMPLAINT REPORTED: Monitor dead

HISTORY: When the customer called me seeking my permission to bring an LG Monitor, which was dead, I asked him whether it used an external power supply. He said yes. So, I asked him to bring only the adapter first. Since there is containment due to Covid-19, I did not want too many things to be brought into the house. I collected the ACA (abbreviation for AC Adapter to be used in this article) at the gate itself, wearing mask and hand gloves. Brought it in, sprayed sanitizer and left it to be taken up next day.
TROUBLE SHOOTING AND RECTIFICATION DONE: When I checked up the output of this ACA in the very early morning hours the next day, I found it was showing around 0.2 V instead of 19V. I opened the ACA punching my pen knife into one corner of the case which is glued, and slowly piercing the other sides without causing much damage. Incidentally, this is a knife which I bought from the way side vendor many years back. It is made of pig iron and has served me as a good tool not only for opening such devices, but also for scraping wires, PCB tracks, removing flux after using wick and all such odd works. It was also used to peel off hardened insulation of wires, which cannot be done by a wire stripper. The peculiarity is that the sharpness is neither too fine that will chop off nor blunt, but at the same time hard enough not to get damaged; the right choice for such odd works. In fact, I use this knife at-least a few times daily! I am sure that many of us might have some special collections such as this, which becomes our favorite tool because of its multiple uses! OK, Ok, let me continue with the main subject. After opening, I saw a burnt mark near the DC supply of the primary, the other side of which was blocked by the large Tank Capacitor. I also noticed green fungi formed near the Primary of the SMPS Transformer. In order to know what this component was, I had to take out the Tank Capacitor, which I did after discharging it, and removing the rubber glue bonded to the PCB (using the knife, of-course!). It was the jumper that carries B+ to one primary winding of the SMPS Transformer. This is the same jumper wire that had fungi formation on the other side. Probably the burnt out side had also fungi, because of which dry solder caused arcing forming the burnt mark. Anyhow, I checked the SMPS transformer using the Ring Tester and found it to be ok, which meant there was nothing shorting either in the primary or secondary. Checked the value and ESR of the tank capacitor and found it to be ok too. The switching Mosfet was also ok. There were no other bad components in the primary or secondary.
ESRs of all capacitors were well within the limits. So, replaced the jumper wire with a single strand wire and soldered the Tank Capacitor back. Applied power and I was glad to see that the output of 19V was present! Then disconnected and discharged the Tank Capacitor once again using bleeding resistors as advised by Jestine Yong in his books. Did a thorough dry solder patch of all the points on the board. Cleaned the board thoroughly. Allowed it get dried up. Then connected to power once again, after checking for any man made shorts on the board, using a lens. Found the ACA to be working very well. So, put the board back into its case and used black tape to fasten both cases together, which will serve as a camouflage for the black case (Is it not difficult to see the tape in the first picture above?) Later on, the customer who collected the ACA informed me on my enquiry that the Monitor was working very well! Mission accomplished and satisfaction got added to the collection bag.
NOW TIME FOR A 'SIGHT-SEEING':






This article was prepared for you by Parasuraman Subramanian from India. He is 70 years old and has more than 30 years' experience in handling antique equipment like Valve Radio, Amps, Reel Tape Recorders and currently studying latest tech-classes conducted by Kerala State Electronics Technicians' Association. He has done graduation in BBA degree, private diploma in Radio Engineering and retired as MD of a USA company. Presently working as Consultant to Hospital and other institutions.
Please give a support by clicking on the social buttons below. Your feedback on the post is welcome. Please leave it in the comments.
P.S-If you enjoyed reading this, click here to subscribe to my blog (free subscription). That way, you'll never miss a post. You can also forward this website link to your friends and colleagues-thanks!
You may check on his previous repair article below:
https://jestineyong.com/lightning-struck-akai-active-surround-system-restored/
Likes
(

58

)
Dislikes
(

0

)