Burnt Out LED Strip In Samsung UA32EH4003 Repaired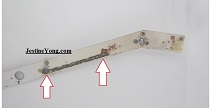 A young lady came to my shop and asked me to go to her car and help her pick up a TV that needed repair. It was a 32 inches LED TV.

Once I powered it up, I could see nothing coming on except a stand by light flickering and then it goes into shut down.
For a moment I assumed this was a power supply issue but…the customer mentioned something about a burnt smell that was coming out of the TV and that is why she brought it for repair.

When I took the back cover off and checked for burnt component I found nothing. All voltages were normal except at the LED light power socket which gave me the indication that something have to do with the LED back light was faulty. The voltages there were reaching 170 voltages then these readings drop down to almost nothing.

I could some dark areas on the board near the LED light socket but it was a surface one and it gave me more indication that something is faulty with the back light.
I took the TV frame out, dismantled the actual screen panel very carefully and finally I got to the back light area. Take a look

This TV has only two LED strips and one of them was burnt out explaining what the customer mentioned earlier.

If you look to the far side of the LED strips, you could see that someone worked on this TV. I could see some soldered spots on board. The LED light strips were beyond repair and the only way to get this TV fixed is by only replacing the LED light strips with new ones.
These strips are hard to find except to order them online. If I order them online that means at least 22 days for waiting. I called the customer and explained the situation and the young lady asked me to look around and if we cannot find them here, then we will order them online.
Well, I called all the technicians that I know and one of them who lives about 45 minutes drive from my shop says he had the same exact TV but the Panel was broken so he was willing to sell them to me for a fair price.
After I got my OK from the customer to go ahead and get these LED lights whom by the way I forgot to take a photo of before installing. I apologize about that.

After I installed the back lights and I powered up the TV, the stand by light came on and steady after few flashes. I put the TV back together and……


Mission accomplished.
This article was prepared for you by Waleed Rishmawi, one of our 'Master Authors' and currently working in the Bethlehem area of Palestine repairing electrical and electronic equipment.
P.S- Do you know of any your friends who would benefit from this content that you are reading now? If so, forward this website to your friends or you can invite your friends to subscribe to my newsletter for free in this Link.
Note: You can check his previous repair articles in the link below:
https://jestineyong.com/a-technician-mistake-shorted-out-a-ups-device/
Likes
(

76

)
Dislikes
(

0

)