Camera Battery Charger Repaired Part 2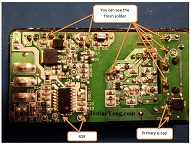 I went to take some pictures with my camera and the battery was dead. So I put in a fresh battery and put the dead battery on my charger, and the charger was dead – again! Those that remember my last article fixing this charger will remember that it had bad solder joints on one or both through-hole inductors. You will also remember that I purchased a new battery charger with extra batteries on Ebay. Below is the first article:

As you can see in the picture, the LED is not lit, indicating that the charger is not working. So let's see what is wrong this time.

I took it apart pretty easily this time by carefully hitting a screwdriver with my hand to break the 4 drops of superglue on each corner of the case that I applied after the first repair. I looked over the PCB and components on the board and did not see anything wrong. Rather than start taking off components and checking them, I decided to assume that I had more bad solder joints.
So I sucked the old lead-free solder with my Hakko 808 de-soldering pump on the mains connector, fuse, R29 resistor, and the other e-caps that still had original non-lead solder on them. Then I soldered them back with good leaded solder.
Success, it is working again!! I was right about there being another bad solder joint! The other battery in the first picture is being charged in the new charger that I bought, so I used this extra battery to test this charger with.

This article was prepared for you by Robert Calk Jr. from Texas USA  and he is a Hobbyist that loves learning & repairing electronics.  He welcomes any comments and suggestions you care to contribute.
P.S- Do you know of any your friends who would benefit from this content that you are reading now? If so, forward this website to your friends or you can invite your friends to subscribe to my newsletter for free in this Link.
Likes
(

124

)
Dislikes
(

1

)