Canon LBP 2900 Printer Repaired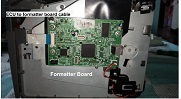 Fault Symptom: Some portion of printing is missing from printout.

Most of time this problem is because of Toner Cartridge may run out of the toner ink. But some other factor may also cause like Bad imaging drum in cartridge, Bad Scanner Unit, Dust on scanner Lens, defect ECU Unit, Bad ECU Cables, Bad Fuser Unit and many more reasons are involved.
In this model self-test is possible only when printer is connected to the PC (other Models do have self-Test facility without connected to the PC). So re confirming the problem I took self test print out from my PC & got print out as sample photo given above.
So first step I replaced the working toner cartridge and took the print out but same problem that means cartridge is Ok & problem is with some other section in the printer. Now it required visual inspection by section wise as stated above. So I started dismantling the printer.



Opened fuser unit to check the Fuser Heater sleeve seems Ok.
Then opened scanner unit cleaned the lens & Mirror.


After cleaning process I reassembled the Printer & took the printout this time I got satisfactory Printout.

So here I found Cause of the problem was dust on the Focus lens & Mirror on the scanner motor inside the scanner unit.

This article was prepared for you by Yogesh Panchal who works as a Computer Hardware Engineer in Mumbai India.
P.S- Do you know of any your friends who would benefit from this content that you are reading now? If so, forward this website to your friends or you can invite your friends to subscribe to my newsletter for free in this Link.
Note: You can check his previous repair articles on LED Torch Repaired
Likes
(

55

)
Dislikes
(

0

)