Car Dashboard Camera Repair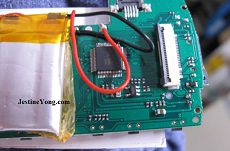 This article is about a cheap HD dashboard camera model FHD 1080p. It was completely brand new but suddenly got already defect and wouldn't turn on, the same day it was bought. And pressing the Reset button seemed to work but didn't change the fact that it still wouldn't go on. Only both blue and red leds worked if a USB charger cable was attached. And only the blue led lit up if no USB charger cable was connected. It was my nephew's camera and my brother asked me to have a look inside.

After I had opened the camera by removing 4 outside screws and 2 board screws, I was able to examine it closer. I first checked the Li-ion 3.7V battery with and without any load. And the battery checked out being okay. I also checked with an USB power tester if there was going in any current. I used the USB tester on next photo:

If I pressed any button on the camera made no difference because the current was only about 9 mA and didn't change while only both leds were working. But still nothing changed. I still only got a dead dashboard camera. I couldn't see anything that could be causing this problem.
So I decided to do the same thing as I always do when I want to determine what component is short circuiting on a PC mainboard too. I simply used my fingers to determine if anything got hot on the small board. And indeed there was! Following photo shows what components got hot (marked by 2 white circles):

Right below component with SMD marking S4 that got hot there possibly also is a very tiny resistor also getting hot. But that is just too small to be noticed. I removed the 3.7V Li-ion battery before checking any further. And after I desoldered one side of S4 it was a perfectly working diode. And the capacitor that also was circled in white was no short circuit either. Possibly one of the ICs was getting too much current but none of them got hot. It could have something to do with the Li-ion battery protection circuit, but none of those components got hot either. So it was a little mistery. And without any service manual or schematic there is no certainty if it is fixable. Next step I also do when checking shorting board components is using a stronger Power supply. In this case a six connections USB power adapter with a current of 6A at 5V instead of the usual 500 mA or less current.


And with the li-ion battery still removed I checked if the board components got any hotter or if I was able to burn away any short circuit (which also can be the board and its layers itself). And is in fact again also the same process as when it concerns a short circuiting laptop or pc mainboard.
Just after I had connected the 6A 5V USB power unit to camera I noticed that the buttons worked like they were supposed too! And after that none of the components got hot like before. So I re-attached the li-ion 3.7V battery to the board after I had disconnected the USB power adapter.
Still none of the components got hot and all buttons worked including the white backlight of the LCD screen.

And also the Blue camera on led worked as expected.
Next photo shows that the screen's backlight is also working again after the USB adapter was attached:


Following photo shows the by a flat cable connected camera and its IR leds, plus some other photos:





Although the short circuit now had gone, and the li-ion battery was charging fine after explained procedure, everything worked afterwards except the LCD OSD menu. But still the dashcam could be used again, as a SD video card recorder because it starts recording as soon it is switched on. Likely the poorly connected internal LCD flat cable had something to do with the short circuit on the board. And why this now is the only thing that is not working . And if these LCD screens in future can easily be obtained for affordable prices it will even be possible to completely fix the camera. But for now the prices are just too high and only spare parts from other defect cameras or similar devices are a good way to replace bad screens cheap. And these cameras are way too cheap to invest in a completely new screen anyhow.
Next to successfully charging by the USB connection cable also the USB interface connection to any PC worked splendidly after this repair/fix, so no reason to throw away this fine recording camera yet!
I wasn't able to find the SMD codes for the 5 legged IC (code S2PH) right under the big SMD IC, or the S4 code of the SMD diode. But anyhow it again works as a recorder, a card reader/writer and can be used again in my nephew's car. And I do not make this up, but it again did cost me nothing to fix this HD dashcam recorder, so it can be used again! And this previously dead device is alive and kicking again! Others probably easily would have thrown it away! And before I forget to mention this, the FHD 1080p also records sound!
After some days of testing I came to the conclusion that it must have been the unknown 64 pins chip itself that previously was responsible for the S4 and capacitor components for getting hot. The complex chip with marking 24CC or 24EE,uQHA 136.1 or MHA 136.1, 1617 or T617 now must be partly defect, and why only the LCD isn't working. Also given the fact that the FHD 1080p dashcam battery is empty after a full charge within a day and now the chip on board is the only part that still gets a little warm, and that chip likely also controlled the OSD LCD part before.
So the next best thing to replace would be the 64 pins IC itself, and not the LCD screen. Sadly these special chips won't be available to order.
And unlike in laptops or PCs were the PC will not work/boot after the vga videochip (or slot card in a desktop pc) is defect, here the camera still works as I explained. And the only reason why this FHD 1080p dashcam got partly defect could have been the fact that my nephew had connected it to his car without using the original camera 12V to 5V adapter. According to my brother the output of that other adapter used was a bit high with being 5.6V.
And if the camera is powered by the adapter instead of by its internal 3.7V battery, all other functions, except the OSD, will as said still work nicely! Anyway, this article also again shows how to easily find those short circuits, and defects in laptops, PCs and other devices!
Thank you for reading, and have a very nice day!

Albert van Bemmelen, Weert, The Netherlands.
Please give a support by clicking on the social buttons below. Your feedback on the post is welcome. Please leave it in the comments.
P.S- If you enjoyed reading this, click here to subscribe to my blog (free subscription). That way, you'll never miss a post. You can also forward this website link to your friends and colleagues-thanks!
Note: You can read his previous repair article in the below link:
https://jestineyong.com/hp-envy-laptop-power-adapter-repaired/
Likes
(

83

)
Dislikes
(

3

)