Car immobilizer system checking with an oscilloscope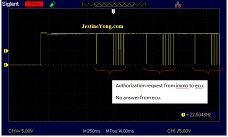 Hi!
In this video tutorial I will show a really basic setup and "how-to" steps on a car immobilizer system. The car is an old car from the end of '90. but I found it really good for and experimental purpose, to show  some practical steps  how this system is working and how to use an oscilloscope to check what is wrong.
On this car, the immo light illuminate on the dash and the car cannot start. Some technicians tried to figure out what is the real problem but without success. The immobilizer system is a really simple one in this car because this type of immo stuff is a one wire communication system. That means, through one wire is the communication build up between the immo box and the ecu of the car.
Nowadays modern cars has a much more complicated system, where the communication goes through a so called CAN bus communication protocol and that is much harder to trace but also possible.
Our goal in this article is to realize how to check does any communication is relaying between the car key and the ecu. Many times technicians can't really decide what is wrong, the transponder in the key, transponder amplifier, immobilizer box, ecu or wiring. Here is picture about the scoping, in this case we deal with a broken ecu *dump because the immo box sends non-stop an authorization request to the ecu but no response from the ecu.

* "dump"  is the name of the content of some sort of memory device like a firmware or eeprom content.
Let's watch the video and I hope you will enjoy it.
I hope you enjoy this tutorial and will save lot of repair time.

This article was prepared for you by Christian Robert Adzic from Novi Knezevac-Serbia.
Please give a support by clicking  on the social buttons below. Your feedback on the post is welcome. Please leave it in the comments.
P.S-  If you enjoyed reading this, click here to subscribe to my blog (free subscription). That way, you'll never miss a post. You can also forward this website link to your friends and colleagues-thanks!
Note: You can check his previous post in the below link:
https://jestineyong.com/easy-ways-to-troubleshoot-and-repair-power-supplies/
Likes
(

46

)
Dislikes
(

0

)