CASIO CA-100 Tone Bank Keyboard Survived A Wrong Connection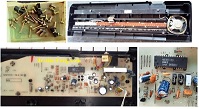 This was brought to me with a complaint that it was not used for some time and when it was connected to Power Adapter, no LED light lit and nothing worked. I checked the output of the Adaptor and got voltage and therefore, concluded that something had gone wrong inside. The Keyboard had been serviced before for sure, as I could see that a different type of socket (EP type) fixed a little away from its original socket, which was found missing too!
I opened the back metal cover and I had to remove several screws before I could see the inside.

I used the blower and cleaned up the inside very well. I had to remove around ten more screws that were holding the board to the control panel. When I tilted the board and looked, I saw corroded tracks.

I cleaned the board thoroughly using IPA. Then checked ESRs of the caps, which were found ok. Then cleaned the carbon prints provided for making contacts by sliding switches and other buttons. Here you can see bottom of the switches:

This system makes checking the board complicated. To look at the PCB solder side, we have to remove the screws. But if we take out the PCB, the sliding on/off and other switches will not be touching the board and we cannot enable a power on easily. So, I completed the patch work of tracks and did a retouch of all the solder points and made it shine like new. I also applied pressure on the switch leaves and pressed these a bit forward to enable firm contacts. We have to do it gently without breaking or misaligning the leaves. Then fixed the board back, to switch it on and see. I also corrected the wrong DC socket wiring done, which I could trace because of the service manual that I downloaded. (CASIO CA-100 SM Service Manual download, schematics, eeprom, repair info for electronics experts (elektrotanya.com) )
Before connecting the adaptor, I checked where the +/- were coming. It was ok as I wired. So, just imagine what would have happened when the customer inserted the DC jack; positive was going to negative and vice-versa.
Luckily, no damage was done, as the input got dead shorted at the insert itself, dropping the voltage. I applied power and found the Keyboard working very well. Lubricated the polarity inverting connector and sealed it with two layers of tapes and also sent a message to the customer not to open that portion.

Mission accomplished, which caused another satisfaction getting added to its collection bag.
Special notes: (1) Be cautious of AC adapter which has facility to invert polarity. If the customer had ignorantly tried by inverting, we will bear the brunt, if we also overlook this possibility. (2) Even if we find that the fault is simple and we can fix it without taking the trouble of removing the boards, please do so in order to enable a thorough check up of all the circuits and fix any faults that could cause a return in the near future. (3) Always try to get the service manual and study the functions and connections thoroughly. This will ease out troubleshooting and rectification process.

This article was prepared for you by Parasuraman Subramanian from India. He is 72 years old and has more than 30 years' experience in handling antique equipment like Valve Radio, Amps, Reel Tape Recorders and currently studying latest tech-classes conducted by Kerala State Electronics Technicians' Association. He has done graduation in BBA degree, private diploma in Radio Engineering and retired as MD of a USA company. Presently working as Consultant to Hospital and other institutions.
Please give a support by clicking on the social buttons below. Your feedback on the post is welcome. Please leave it in the comments.
P.S-If you enjoyed reading this, click here to subscribe to my blog (free subscription). That way, you'll never miss a post. You can also forward this website link to your friends and colleagues-thanks!
You may check on his previous article on Revived An Antique AKAI Stereo Cassette Recorder AJ-500FS
Likes
(

46

)
Dislikes
(

0

)