China Wireless Remote Control Bulb Socket Repair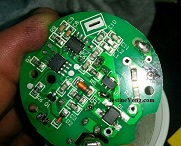 A good friend of mine called me over to his home and showed me this Wireless Remote control light bulb socket. The model is WRCLB3. It was purchase from USA and in a set of three, two of the three was working fine and this one was not.
My friend bought this because his wife is very ill and can't move around a lot. So it was important that I repair this as quickly as possible.

It was not very hard to open, by just removing two screws I was able to access the circuit board. The below picture shows what I found when I open the socket. A resistor had gotten hot and discolored the board. From the top view of the board it does not look like there was much component to this circuit.

By removing another two screws that held down the circuit board I was able to see all the rest of component. See below picture

Looking at the circuit board it was very dirty and full of solder flux

I removed the resistor and tried to make out the value of the resistor. From the picture below you can see the color bands look like Brown with white and gold. However, when I measured the resistor, look at what was the value on the next picture. It was 4.502 M Ohms. I knew that this could not be the value. I was unable to make out the color on the resistor so I called my friend and told him to open one of the two remaining he had and tell me the color code on it. When he told me the color code I could not believe it… It was a 100 Ohm resistor.


I clean the board with some Isopropyl Alcohol (IPA) and solder in a new 100 Ohm resistor. Then I remembered that I did not have the remote to test it and I could not take a picture of it. The next day I took it over to him and we tested it and it work like a charm. I wanted to get this back to him quickly that I forgot to take a picture when he installed it. But the important thing was that mission accomplish.


This article was prepared for you by Andre Gopee from Calitech Limited Trinidad West Indies.
Please give a support by clicking on the social buttons below. Your feedback on the post is welcome. Please leave it in the comments.
By the way if you have any good repair article that you want me to publish in this blog please do contact me HERE.
Note: Please check out his previous repair article below:
Likes
(

100

)
Dislikes
(

2

)