Cleaning Pickup Lens Solved Cannot Read CDs Problem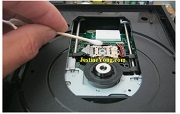 The main complain was, it does not play any CDs. It keeps loading but nothing else happens. LG is not my favorite band name but it is an income and I have to get it fixed somehow.

Screws off, cover off and I could see some dirt accumulating on the top of the CD pick up lens housing. I could also see dirt near the VCR playing head.

I do not know how clear that is but here you can see a dead cockroach in there and also I see living ones too.
First task was to clean the device and make it clean again and then see what we can go about it.

As you can see, some dirt escaped the cover and got into the Pickup lens housing and its surroundings.
I got my mighty blower and blew all the dead and alive cockroaches out of that device. Before I powered on the player, with a cotton swaps and alcohol, I gently cleaned the pickup lens and made sure it was spot clean.

After the cleaning, I put everything back together and powered on the player. I started to get the loading message again and then; I could see the display on my old TV set.

That was the player intro being shown on this old CRT TV.

As you can see, this is the display of the DVD that I was playing.

Sometimes, all it takes to fix something is through cleaning and this is a great example here. Mission Accomplished.

This article was prepared for you by Waleed Rishmawi, one of our 'Master Authors' and currently working in the Bethlehem area of Palestine repairing electrical and electronic equipment.
Please give a support by clicking on the social buttons below. Your feedback on the post is welcome. Please leave it in the comments. If you have electronic repair articles to share with us, please contact us HERE.
P.S-  If you enjoyed reading this, click here to subscribe to my blog (free subscription). That way, you'll never miss a post. You can also forward this website link to your friends and colleagues-thanks!
Note: You may check out previous post in the below link:
https://jestineyong.com/how-to-fix-a-dead-hoverboard/
Likes
(

69

)
Dislikes
(

0

)