Computer ATX SMPS No Power Repaired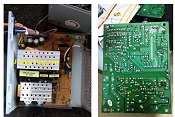 Received one Desktop Computer for No power symptom.

Checked Power cable found OK, Checked power trigger switch on computer found OK .Checked Power supply Voltages on power connector there is no voltage output concluded the Power Supply is faulty.
For Triggering the SMPS you must have
Three Voltages on the Power Connector
1) PS_ON —- 5V ( Green Wire)
2) Standby —-5V (Purple Wire)
3) Power OK —-5V (Gray Wire)……..

Color Code of wire is Standard for
Any brand of PC Power Supply.
First I have Checked PS_ON Voltage I am getting no voltage. Hence I have Disassembled the SMPS for further fault finding. On Visual Inspection I didn't found any Physical damage or burnt out.

Then I have removed the circuit from the Metal Chases.
Now I have started cold testing on Primary side…….But I am not getting any reading on multimeter. Even testing continuity on the trace it is not showing any Reading .so i turned the circuit on component side and checked Fuse for continuity
I found Fuse is OK and showing Continuity again I have tested on solder side same problem no continuity…………..
I have taken the circuit under bright light and see what I found……
Some Shiny liquid type substance on PCB primary side of the Circuit. On googling I found this is "PCB Non conductive insulating spray called Conformal Coating".
A conformal coating is a thin polymeric film applied by spray to a printed circuit board (PCB) in order to protect the board and its components from the environment and corrosion.

So now I am comfortable for testing because I use sharp needle test multimeter probe I am just apply pressure on the test point to penetrate the needle to the solder.
Further ……as I have seen Fuse is intact and there is no burnt mark on PCB. It indicates that there is no short circuit on primary side & indicates some Open Circuit /malfunction of some components.
Checked 320V on Mains Capacitor found ok that means up to the mains capacitor everything is OK.
Hence I have decided to check further components on cold testing. I have removed two switching transistor checked found OK.

Removed Standby transformer side Diode because it gives reading on both the direction on PCB.

Testing Out of the Circuit it shows OK One direction Reading means Diode is OK. Now I have started checking all the components primary side after Mains capacitor. Here I found 1MΩ Resistor open circuit it is not showing any reading on the meter.

Replaced the faulty Resistor.

On tracing I Found this resistor is connected to the power management IC UTC 7608D Pin no. 1 assumed this is VCC PIN. (Didn't found Datasheet on the net for UTC 7608D). After replacing new resistor I have re assembled the unit and reconnected the cooling FAN on the Circuit and turned on the power supply by triggering PS_ON Signal.
For triggering testing any PC SMPS you have to short the PS_ON (green wire) with Ground (Black wire) by putting 'U' clip copper wire.

For safety I have connected series Bulb and turned On the Unit. Now final result……….

So Culprit is 1MΩ Resistor.
Now Power supply is OK……..
One more thing… some technicians get confused for Cooling Fan Voltage.
Because in the PC SMPS mostly Red wire is dedicated to +5V and in FAN connector there is also Red wire. So whenever FAN gets BAD technicians cut the wire of new fan and connecting it on 5V. This is wrong.
Always check the voltage rating On the FAN it is 12V it should be connected to 12V.


This article was prepared for you by Yogesh Panchal who works as a Computer Hardware Engineer in Mumbai India.
P.S- Do you know of any your friends who would benefit from this content that you are reading now? If so, forward this website to your friends or you can invite your friends to subscribe to my newsletter for free in this Link.
Note: You can check his previous repair articles in the link below:
https://jestineyong.com/acer-es1-520-laptop-with-no-display-fixed/
Likes
(

78

)
Dislikes
(

0

)