Computer Motherboard Shutdown After Few Minutes Solved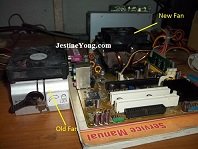 I got a motherboard from one of my customers with a problem of automatically turning off after running 5-10 minutes. Below is the motherboard specification:
Motherboard: – ASUS M2N-MX SE PLUS
Processor: – AMD Athlon ™ 64×2 Dual Core 5200+

As I test the motherboard I found it was running only for 5 minutes and turned off. I simply went to the BIOS setup and I noticed the temperature was rising in every second.

First the CPU temperature starts from 38 degree and went up to 75 degree Celsius. This high temperature had caused the motherboard to go off. Initial fan speed was about 2743 RPM and later it went up to 3250 RPM (Maximum speed). By right the maximum fan speed should be more than 3250 RPM. So I decided to change the CPU fan with a new one.

Voila! It worked and the CPU temperature doesn't go beyond 51 degree Celsius as seen from the photo below. The fan maximum speed of 3924 RPM had really cooled down the CPU temperature.

Almost every problematic AMD processors gets hot in few seconds and were caused by defective fans. The above problem was a common fault and I suggest any new buyer to buy a good quality CPU fan with good speed that can brings down the CPU temperature tremendously.
This article was prepared for you by Narayan Sharma-Computer Care, Guwahati (Assam) India. Please give a support by clicking on the social buttons below. Your feedback on the post is welcome. Please leave it in the comments.
By the way if you have any good repair article that you want me to publish in this blog please do contact me HERE.
Likes
(

28

)
Dislikes
(

2

)