Computer Power Ok But No Display No POST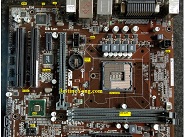 Received PC for repair with fault symptom when we power it ON- CPU FAN spinning & Power LED indicator light up properly but no any other indication of Booting No POST Beep & No display.
So suspected parts are
1) Motherboard
2) RAM
3) CPU
4) BIOS
Note: Before proceeding any troubleshoot for safer side disconnected the Hard disk first. Because at the time of troubleshooting we have to switch ON & Off the machine frequently which may cause damage to the HDD. Now time to inspect the Motherboard for any physical damage.

Now first of all removed CMOS Battery, CPU, BIOS Chip and all connectors & cleaned motherboard using IPA & visually inspected the Motherboard for any type of physical damage; everything seems ok,

Removed RAM Cleaned golden contacts using eraser & inserted again in RAM slot & powered the PC but no result.

Normally on Faulty RAM it gives 3-Beeps sound indication of RAM Module failure but many time I found on Bad RAM it does not give any beep code.
Now checked Voltages On ATX SMPS connector found all voltages are Ok as per the specification i.e. 3.3V, 5v & 12v these three voltages are main required for working of the Motherboard.
Checked VRM section for CPU Voltage found 1.2V V-core Ok VTT 1.09v to CPU ok all the
Voltages are OK………….
Now I have to check whether CPU Getting HOT or not so removed CPU FAN & checked CPU by touching the finger CPU is COLD ——No Heating that means Processor is not functioning …. Here if you have spare CPU for testing will speedup troubleshooting unfortunately I do not have same Generation CPU for testing.
There is limitation of compatibility of CPU & Motherboard. I have ci5 5th Generation CPU with me but this board support till 4th Generation only……….so now I have to arrange the 4th gen. CPU for the testing.
First I decided to take the CPU on loan for testing from my colleagues but this is risky job because if motherboard CPU section is having short circuit one single mistake can cause damage to the CPU.
I kept the unit a side & took another repair………………after 2-3 days I decide to update the situation to the customer if he is ready to spend more & get the thing fix. On discussion he told me to buy second hand working CPU if possible, but I explained him other side drawbacks.
So he kept it on hold & told me he will find if any of his friends can help him to find working CPU…
On same evening I just took the CPU & thought to check the CPU if I can do something.
I took out Multimeter to check Parts Connected below the CPU …. Those all are Capacitors Connected in parallel Group wise I checked on capacitor & it showing me 2.6 Ohm ……seems like short. checked few other capacitors randomly some are showing 90 Ohm & so on…….so I removed the Capacitors which shows value below 5 Ohm……



Removed Capacitor checked out of the circuit it shows 2.46Ω a shorted Capacitor.
After removing suspected capacitors, I connected the CPU on the board & powered the unit on triggering on off switch I touched the CPU it getting HOT & I heard single Beep it indicated The board is functioning……I connected the monitor & I was in Bios setup screen……& my exhausted energy boosts up.

Randomly On & Off the power switch for confirming proper working after providing the power & seems OK. On next day I connected the Hard disk & kept CPU on Burn in test it works whole day without any problem. Updated the things to the customer about & he was excited and happy to pay me extra for this hack as I saved his machine going to the scrape.

This article was prepared for you by Yogesh Panchal who works as a Computer Hardware Engineer in Mumbai India.
P.S- Do you know of any your friends who would benefit from this content that you are reading now? If so, forward this website to your friends or you can invite your friends to subscribe to my newsletter for free in this Link.
Note: You can check his previous repair articles on Canon LBP 2900 Printer Scanner Unit Error Fixed
Likes
(

77

)
Dislikes
(

1

)