Conventional Method Employed Had To Be Reverted In IKON Induction Cooker Service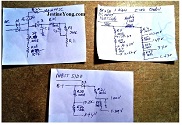 This induction cooker was brought to me by a regular customer stating that it belonged to his neighbor and it was lying unused for a long time. As usual, after finishing my opening and cleaning up inside out, I brought the PCB to work table for scrutiny. I had already noticed that the fuse had cracked, indicating that IGBT would have definitely blown along with some other in the power supply.
Checked and found that the IGBT was indeed shorted. As a routine maintenance, I replaced all the 8050/8550 transistors, 78L05 and 18V Zener and all the high watt resistors. I did not replace the IGBT at that stage. Did a resoldering touch of all points on the PCB. Looked for any defective components such as diodes, other resistors etc. Then replaced all the switches on the panel, as these were found to be defective and rusted.



As you will notice, the high watt resistors were replaced by two resistors in series as exact replacements were not available. All these were 200K resistors. But these are not available in the market. So, used two 100k resistors in series and covered it with sleeves applying Fevibond (Rubber Compound) for protection. The Fan was rusted and stuck. So, replaced that too.
Then when I applied power, there was continuous beep which looked like an error indication. This cooker was not having any display. So, no error message could be read. Anyhow, as the fan was running, and voltages were normal at 5V and 18V Zener, I replaced the IGBT and applied power, after reconnecting the coil and placing the vessel on its top cover. The beep continued without any heating up. Checked the voltages at each stage and I got the result as below:

Then what was wrong? I had no clue! When I checked with my techie friends, one of them told me that the 200K resistors were of 1% tolerance, whereas the 100K resistors (two each for one 200K) were all of 5% tolerance. So, he advised me to put back the original resistors and try. As the removed resistors were showing the reading correctly, I removed the replaced resistors and put the original back. This time the Induction Cooker worked very well without any error beeps!
So, a lesson learnt. Though I had done such replacements in several Induction Cookers, this was the first time, I got snubbed! Probably the circuit was designed and programmed in such a way that even a slight variation in the voltage would be sensed and working deactivated. I tried the cooker for a few days in my kitchen and found it to be working very well. In fact, cooking was faster than the one we used in the kitchen.

Here are the pictures of the defective components and the resistors and sleeves which I took back:

Anyhow satisfaction did not feel ashamed to jump into its collection bag (perhaps with a snubbed nose this time! (LOL)

This article was prepared for you by Parasuraman Subramanian from India. He is 72 years old and has more than 30 years' experience in handling antique equipment like Valve Radio, Amps, Reel Tape Recorders and currently studying latest tech-classes conducted by Kerala State Electronics Technicians' Association. He has done graduation in BBA degree, private diploma in Radio Engineering and retired as MD of a USA company. Presently working as Consultant to Hospital and other institutions.
Please give a support by clicking on the social buttons below. Your feedback on the post is welcome. Please leave it in the comments.
P.S-If you enjoyed reading this, click here to subscribe to my blog (free subscription). That way, you'll never miss a post. You can also forward this website link to your friends and colleagues-thanks!
You may check on his previous article on Denon AVR-X500 Repair
Likes
(

46

)
Dislikes
(

0

)