Corroded Wires Caused Intermittent Contacts In Computer ATX SMPS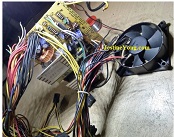 This Computer SMPS was brought to me with the complaint that it works intermittently and if the multiple wire connector is shaken, it comes on and off. So, it was a clear indication of loose contacts in the wire. Now, there is a problem, as this connector has 24 pins in one connector:

As you can see there are 8 black wires (ground), 5 red wires (+5V), 2 yellow wires (+12V), 4 Orange wires (+3.3V), 1 green wire (PS-ON), 1 Blue Wire (-12V); 1 White wire (-5V), 1 Grey wire (Power Good sensor) and 1 Violet wire (+5V Standby) totaling to 24.
Then there are 12 more connections going to Hard Disks, CD drives, SMPS Fan etc. totaling to 36 wires! So, how to know which wire is the culprit? All these are soldered very closely on the Board and it is very difficult to comb the area or check the broken wires. The only way was to transplant another set from a salvaged SMPS and that is what I did. I selected a good set of wires from an old SMPS and removed the 36 wires ensuring that no damages are caused to the tips. Then started from one end and replaced the wires on the Board, keeping the choice as colours.
First I replaced all the Yellow, then black, then red, then orange, and the others one by one. The method was : remove same colour wires and clean up the area, insert the replacement of same colour wires and solder them one by one ensuring proper bonding! Well, it took some time for sure. But the net result was good!

After finishing this work, I rechecked what I did thoroughly (one wrong connection is enough to have the PC mother board or other parts damaged) cleaned the board and powered the SMPS on to find that the Tester was indicating
all voltages and SMPS fan was running well! A job well done to my satisfaction, result of which as you might all know by now that it jumps itself to its collection bag! (LOL)




This article was prepared for you by Parasuraman Subramanian from India. He is 71 years old and has more than 30 years' experience in handling antique equipment like Valve Radio, Amps, Reel Tape Recorders and currently studying latest tech-classes conducted by Kerala State Electronics Technicians' Association. He has done graduation in BBA degree, private diploma in Radio Engineering and retired as MD of a USA company. Presently working as Consultant to Hospital and other institutions.
Please give a support by clicking on the social buttons below. Your feedback on the post is welcome. Please leave it in the comments.
P.S-If you enjoyed reading this, click here to subscribe to my blog (free subscription). That way, you'll never miss a post. You can also forward this website link to your friends and colleagues-thanks!
You may check on his previous repair article below: https://jestineyong.com/rejuvenated-a-weak-crt-tube-of-samsung-model-ks9a21m16-and-fixed-broken-back-cover/
Likes
(

51

)
Dislikes
(

0

)