Could It Be That Easy Repair For This Battery Charger? Model: Hilty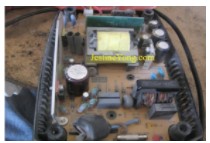 I was getting a lot of battery chargers this past month; some of them were not easy to repair and some, well, take a look to see what I am talking about.

As I understood from the customer, the charger was completely dead and as you can see in the photo, the fault was confirmed. There is suppose to be charging bars at the top of the battery and for some reason, there were not.
Hilty is a very good but expensive brand. They are very liable (Supposedly) and parts also expensive but available. There are a few dealers in my area so they usually contact me for such repairs.

Powered on the device and I was not getting power at the main filter capacitor which indicates a problem before that stage in the charger.

When I flipped the board, I found a lot of cold soldering joints and decided to re solder them but when I got to the area marked with the arrow, the solder joint just broke and that is what is seen in the photo.
Could be that simple repair, just a broken joint that needed some tender loving care?

I added some flux, soldered that part and powered on the device and I was surprised that such expensive device can have such fault that causes the device not to function the way it should.

Yes, the charger was brought back to life and the lesson we learned here that not every device needs a complicated repair; it can be as simple as on drop of solder on a cold broken joint.
Mission Accomplished.

This article was prepared for you by Waleed Rishmawi, one of our 'Master Authors' and currently working in the Bethlehem area of Palestine repairing electrical and electronic equipment.
P.S- Do you know of any your friends who would benefit from this content that you are reading now? If so, forward this website to your friends or you can invite your friends to subscribe to my newsletter for free in this Link.
Note: You can check his previous article on 2 Amp With 130 Degrees Thermal Fuse Replacement
Likes
(

71

)
Dislikes
(

0

)