Cracked Iphone 6s Screen Replacement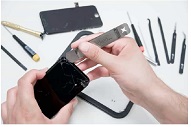 We recently got contacted by customer with a cracked iPhone 6S screen. He was wondering about the repair process, how long that it would take and if the cost was worth it for him to repair over purchasing a new iPhone. Luckily for him we were able to assist him with answering all his questions and fixing his iPhone.
Every retailer and repair store has its own price associated with iPhone repair and with the release of a new iPhone this price will go down so we will talk about the average repair cost of an iPhone 6S screen in the market today. At the high end price you will see manufacturers like Apple charge close to $150 to repair a cracked iPhone 6S screen with LCD replacement included. Low end repair cost is around $80 which can be found with some independent repair individuals. On average you're looking at about $100 to have an iPhone 6S screen replaced with quality parts and from a reputable repair expert in town.
A used iPhone 6S in excellent condition is about $350 – $400 while a new iPhone X is sold at $1200 from Apple. Thus said, it is definitely more worth it to have your iPhone screen replaced than to purchase a new iPhone. Going this route will save you quite a bit of money.
The repair process for replacing an iPhone screen is pretty much the same for any iPhone but we will focus on the iPhone 6S for this article.
The first step is to gently remove the old shattered/cracked screen.

Once the old screen is priored up, we will need to careful detach the display cable connector, camera cable, and the home button cable connecting the phone to the screen.

After the screen is completely removed, we will use the new replacement screen and attach all the cables we removed to the new screen.
We will now test that the iPhone works before applying adhesive and permanently installing the replacement screen.

The new screen has been tested and it works great, so we will apply adhesive and the replacement screen will be installed. We will give it about 5 minutes for the adhesive to cure. The entire screen replacement process took only about 15 minutes, and the customer was very satisfied with the result and the ability to have full functionality of his iPhone again!
By Mark Douglas
Mobile iPhone Repair Portland is Portland's leading mobile iPhone repair company. We have helped thousands of people to have their mobile device repaired, and working just like new again. We started out years ago with a storefront location for our customers. However, based on customer feedback, we decided to develop a Mobile service where we come to you to save you time and to serve you better!
Nowadays a phone is lifeline to work, family and friends. It stores and keeps safe our most precious memories as well. Mobile iPhone Repair Portland takes this responsibility very seriously and will never let unqualified people touch your phone. Our screen repairs are backed by a 90 day warranty and all other repairs are backed with a 30 day warranty!
Our company offers a whole range of services around iPhone repairs. These include iPhone screen/lcd replacement, home button replacement, battery replacement, speaker issue repair, water damage repair, power button, camera repair, and charging port repair. For all other repair questions or inquiries please visit our website and give us a call!
Likes
(

8

)
Dislikes
(

0

)