Creative SBS 370 Speakers Repaired For No Power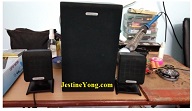 This one is same speaker which was modified earlier by me by installing Bluetooth Kit. Customer sent me complaining no power.

On arrival I checked the adapter it uses 11.4V AC tested using multimeter voltage is OK.

Now for further inspection I opened the unit. I am shocked by seeing the PCB.

Trace pad found ripped off & damaged………..seems someone worked on it. I just phoned to the customer and he admitted that his son has given this speaker to his friend for repair who is studying in final year of electronics .but he is not able to figure out the problem.
So I just discussed with him about the damage done on the PCB. Customer told me to see if it is fixable. After approval I opened database of my pervious articles for wiring reference. Just sharing the PCB Layout on which I have done some Modification earlier by eliminating the external wired remote Volume control with ON/OFF switch Module & installed Bluetooth Kit.


Here damaged ripped off pad is grounding trace
So tested the amplifier with proper grounding it starts work, earlier at the time of modification I connected the LED in place of the switch
which is also not working so I cut the heat shrink tube for inspection and I found Led resistor broken from the wire connected to LED.

Installed new 1.5K resistor ………. & powered the unit and green LED Light up & speakers are back to the life.


This article was prepared for you by Yogesh Panchal who works as a Computer Hardware Engineer in Mumbai India.
P.S- Do you know of any your friends who would benefit from this content that you are reading now? If so, forward this website to your friends or you can invite your friends to subscribe to my newsletter for free in this Link.
Note: You can check his previous repair articles on Multimeter Repaired For Unstable Reading Problem
Likes
(

67

)
Dislikes
(

0

)