CRT Rejuvenation In LG CRT TV Flatron Plus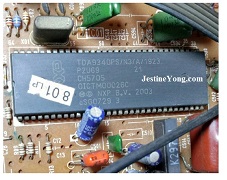 This LG Flatron Plus CRT TV (The model number could not be made out as the label was torn) was brought by an auto guy, who was engaged last time by another customer to bring his CRT TV. Like this, I have almost about 20 customers brought in by auto guys, a few of which they themselves are. None takes any commission or any other favors for recommending others. Each time, the last person would call me and seek my permission whether he can send another guy, which normally I yield to, depending upon the load I have. Thus this is the first time; this auto guy brought his own set, which he wanted to present to his sister, who lost almost everything in the floods that hit Kerala, when thousands of people lost almost all their belongings including houses. The further story is that this was a CTV which he chanced to select from a TV shop, which sells new TVs in exchange for old. What he told me was that the customer who brought it there told him the TV was never opened for service, which he took it for granted. Now let us see, what was in store, for him!
I switched on the CTV in front of the customer, being a new one for me, and saw that the picture was very weak, there were retrace lines too. I told him immediately, that the picture tube itself was weak, as I could see the raster was slightly defocused at the sides, which is a clear indication of old tubes. There were color patches too. As per my condition, he himself carried the set and kept it at my open car porch for cleaning. He helped me do it. The inside was full of dust and dirt and it looked possible that the TV was being opened for the first time. After repeated brushing and blowing and cleaning the inside thoroughly, he kept the CTV on a wooden plank, kept on a wooden chair, which is my usual place for taking up service. Then he left. I always prefer to do all the works on the board, by keeping it on my service table, while the CRT is placed away for the sake of space and convenience. I saw the set was indeed opened and work had been done on this, at-least once, before. Here are the pictures:




The last but one picture was taken much later, as I removed one capacitor C444 due to its poor ESR reading, which was a 4.7/250V capacitorl. That's when I noticed yet another place, where the capacitor was missing. So, set indeed was tampered. Anyhow, first and foremost thing in my list of actions, was to rejuvenate the CRT, failing which, the problem in the board did not matter. So, proceeded with that by using the self-made rejuvenator, about which I had already described in detail with diagram in one of my previous articles. https://jestineyong.com/restoration-of-a-samsung-crt-tv-by-rejuvenating-crt/ That's the picture you have seen in the caption. You will perhaps notice from the last picture above, that it was a Samtel Tube manufactured on 13th of January, 2008! The Green cathode was weak, which got rejuvenated fully. The Red and Blue were only slightly weak. Anyhow, I got all the three guns 'recharged.' I forgot to mention that I had called up the customer and explained to him what I was doing and the attached risks involved in it, like a surgeon who takes consent before surgery! Luckily for the customer as well as me, nothing untoward happened and the CRT got rejuvenated very well. So, started my work on the Board. Replaced all the electrolytic capacitors except the one in the SMPS (Tank Capacitor) as it was perfectly ok. Replaced the three pin PTC, as it was open. Did a dry solder patch up from one corner to the end, without leaving any point untouched. Cleaned the board thoroughly several times. Disconnected the jumper going to LOT, and connected a 100W Bulb as load and checked whether there was any issue with power supply. It was just fine, showing 110V DC at the output. So, discharged the caps and reconnected the jumper.
Did all the precautions that were essential for the picture tube after a rejuvenation, as explained in my previous article. Connected the board. Switched on, it worked for a few minutes and suddenly collapsed with some burning smell coming out. Switched off the set and took out the board again, after discharging the anode cap. On investigation, found out that the new PTC of the degaussing coil was short. Checked whether the degaussing coil was short, which is a very, very rare chance. It showed around 15 Ohms and Blue Ring Tester also showed a few LEDs lit, which all means that it was ok. So, it could only be a new component failure. So, replaced the PTC and connected the board again. This time, it was damn good. The picture quality was superb. Following are the pictures of various angles of the PCB, to show the electrolytic capacitors replaced, and how clean I had made the anode wire and other two wires that come from the LOT that go to CRT PCB.




I do not know whether you can make out, I have fixed a plastic piece, which look like a rotor, that of an empty solder lead, to keep the anode wire away from the CRT. I learnt this trick from one of my technician friends. I have also given a picture of the LOT number for any future reference.
Now, let us have a look at the picture:

The above will also show my Valve Amplifier in the background. I normally, transfer the TV for quality checking and passing to my wife, who is fond of watching a few serials. It serves two purposes, ageing of the TV and testing it while watching, so that there is no need for two TVs to be switched on wasting energy! (No, your guess is wrong, she does not charge me nor did I entertain parting with a portion of my service charges to her because of it.) (LOL)
Now, take a look at the collection of defective components:

No, no, no, I have not forgotten! This got added to my satisfaction bag, which is bulging day by day!

This article was prepared for you by Parasuraman Subramanian from India. He is 69 years old and has more than 30 years' experience in handling antique equipment like Valve Radio, Amps, Reel Tape Recorders and currently studying latest tech-classes conducted by Kerala State Electronics Technicians' Association. He has done graduation in BBA degree, private diploma in Radio Engineering and retired as MD of a USA company. Presently working as Consultant to Hospital and other institutions.
Please give a support by clicking  on the social buttons below. Your feedback on the post is welcome. Please leave it in the comments.
P.S-If you enjoyed reading this, click here to subscribe to my blog (free subscription). That way, you'll never miss a post. You can also forward this website link to your friends and colleagues-thanks!
You may check on his previous repair article below:
https://jestineyong.com/restoring-amplifier-in-hmv-radiogram-futile-attempt-to-restore-its-radio/
Likes
(

51

)
Dislikes
(

0

)