CRT TV Repair- Flyback Replaced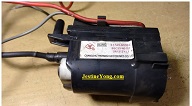 This LG Flatron CRT TV, which is about ten years old, unopened for any service was brought to me with a complaint that it is dead. Unfortunately the label showing the model was torn and so I could not make it out!
After opening the cover and doing a thorough cleaning inside of the cabinet and back cover and on the Main Board, I brought the TV to my workshop desk in dismantled condition. On inspection of the main board, I could not see any dry solder. Checked ESR of electrolytic capacitors. Checked SMPS transformers and FBT (Flyback Transformer or LOT – Line output Transformer) using Blue Ring Tester. All these tests were ok. So, disconnected the jumper wire that goes to FBT and connected a 100W bulb and checked whether the power supply is working. It was working showing a reading of 110V DC. So far so good!  Also checked the high voltage fixed capacitors around the FBT area, by removing one leg and reading the value. These were also ok.
Connected the board to the CRT, and switched on. The TV was dead!  So checked the B+ voltage.  It was zero. Switched off and switched on. The B+ was getting dropped immediately after switch on. The STR driven SMPS power supply had automatic switch off, when current drawn by the load is more. Checked the Vertical  IC as well as the yoke for any shorts.  None!  The HOT (Horizontal Output Transistor)  Transistor D1803 was also ok. The only suspect then is the FBT, though it was showing ok in primary winding with Blue Ring Test. So, removed the FBT:

Got an exact replacement and fit the same and switched on. The TV started working once again.

The picture clarity was also good. There was no need for any adjustment of whatsoever! Look at the result below:

The pleasant surprises were (1) Absolutely no dry solder (2) Absolutely no bad capacitor (3) There was no need for replacement of any of the components except the LOT – A rarity indeed! Even the fixed high voltage capacitors were showing correct reading. This CTV was using TDA9340 series instead of TDA9381 series introduced later. A job done without much complications!

This article was prepared for you by Parasuraman Subramanian from India. He is 66 years old and has more than 30 years' experience in handling antiques equipment Valve Radio, Amps, Reel Tape Recorders and currently studying latest techs classes conduct by Kerala State Electronics Technicians' Association. He was a BBA graduate, retired as MD of a USA company.
Please give a support by clicking  on the social buttons below. Your feedback on the post is welcome. Please leave it in the comments.
P.S-If you enjoyed reading this, click here to subscribe to my blog (free subscription). That way, you'll never miss a post. You can also forward this website link to your friends and colleagues-thanks!
You may check on his previous repair article below:
https://jestineyong.com/dead-panasonic-tc-21fx21c3-crt-ctv-repaired/
Likes
(

119

)
Dislikes
(

0

)